"Do You Want It After Me?" – Who Does & Who Doesn't Share The Bath Water?
Coronation Street fans took to Twitter last night to express their horror and despair at street favourite Tyrone, as he asked his partner Alina a very contentious question.
After discussing the whereabouts of a Weatherfield teddy bear – that was bought for their unborn child – the Corrie stalwart said "do you want it after me?" when referring to the bath water he was just about to lie in!
This sparked a furious debate on Twitter and beyond, with many people left reeling at the thought of Alina sharing Tyrone's bath water.
But, taking a dip in the tub after your partner isn't as uncommon as you think!
In a recent survey, we found that almost 1-in-5 of 35-44 year olds (Tyrone's age group) actually shared their bath water regularly.
The figures drop off for younger (18-24) and elderly age groups (65+) – but it would seem sharing the bath water is not as uncommon as the Twittersphere would have us believe.
Why Share The Bath Water?
There could be several reasons for sharing a bath with your partner.
There's the obvious romantic evening you could enjoy with a glass or two of the bubbly stuff.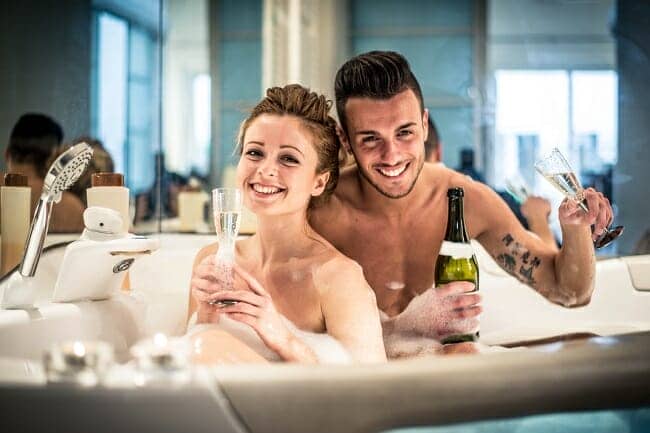 But we think Tyrone's approach is more about saving on the water bill and that he is perhaps a little more water conscious than we give him credit for!
So, to find out who WILL and who WILL NOT sit in someone else's muck – we asked the residents of 15 cities in the UK & Northern Ireland who does – and who doesn't – share a bath!
Who Is Sharing Bath Water?
As Weatherfield is a suburb of the great city of Manchester, it would be remiss of us to start anywhere else.
And, it would appear that Tyrone is not alone on the bath sharing idea, as 21.3% of those Mancunians polled said they had no issue with sharing their bath time.
However, it was Belfast that came out on top – by a solitary 0.1% – as 21.4% of those asked in Northern Ireland said they were happy to "dip in" after their partners.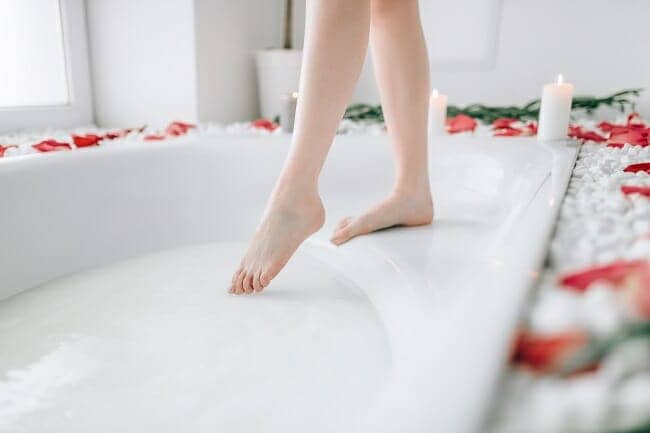 Who Isn't Sharing Bath Water?
Those UK residents sharing the sentiments of many a Corrie fan – and who are not too happy to jump in someone else's filth – are the people of Edinburgh; with just 4.5% of those polled saying they are happy to share the tub.
Elsewhere, Scousers & Nottinghamians are not big fans of their partners' leftover bath water either, with just 7% of Liverpudlians and 6.6% of Nottingham residents sharing a bath.
The Full Bath Water Sharing Breakdown
So, who loves a bath share and who doesn't?
Check out the graphic below to see which age groups love a shared bath.
And discover which cities residents are not averse to dipping their toes – and everything else – in their beloved's leftover bath water!

Do You Share Your Bath Water?
How do you feel about sharing your bath water with your partner?
Is it something you do to save water, or for some other reason?
Let us know if you support Tyrone's stance on your partner jumping in the bath after you, and tell us if you're #TeamBath or #TeamShower!

John trained in journalism before joining the Big Bathroom Shop team. His exceptional journalism skills allow him to meticulously research bathroom topics and bring you the very latest news and views on all things bath and shower related. He's also a dab hand at Scrabble!
https://wpcdn.bigbathroomshop.co.uk/info/blog/wp-content/uploads/2021/07/Sharing-bath-water-blog-banner.jpg?strip=all&lossy=1&quality=70&ssl=1
491
1401
John Lawless
https://wpcdn.bigbathroomshop.co.uk/info/blog/wp-content/uploads/2019/08/bbs-blog-logo-300x82.png
John Lawless
2021-07-29 14:59:18
2021-07-29 15:39:02
"Do You Want It After Me?" – Who Does & Who Doesn't Share The Bath Water?