Choosing the right colour for your bathroom can have a great impact on your mood and general wellbeing.
We've enlisted the help of a colour psychologist to provide you with some top tips on the best colours to choose to improve your mood and how to incorporate them into your interiors.
Colours For The Perfect Bathroom Ambience
We've teamed up with colour psychologist and founder of Essentialise, Lee Chambers, to list the best colours to choose from when it comes to establishing the perfect ambience in your bathroom.
Blue and green are favoured for relations and stability, whereas orange and pink are best for positivity and playfulness.
Blue Bathrooms
"Blue can give us a feeling of stability and security, especially when we are anxious or unsettled."

Lee – Essentialise
Blue is a calming colour that helps you feel centred and relaxed.
A stylish way to introduce it to a bathroom is through the use of tiling.
High gloss tiles make for a beautiful feature wall or splash back and pair with brushed brass fixtures for the perfect luxurious combination.
White Bathrooms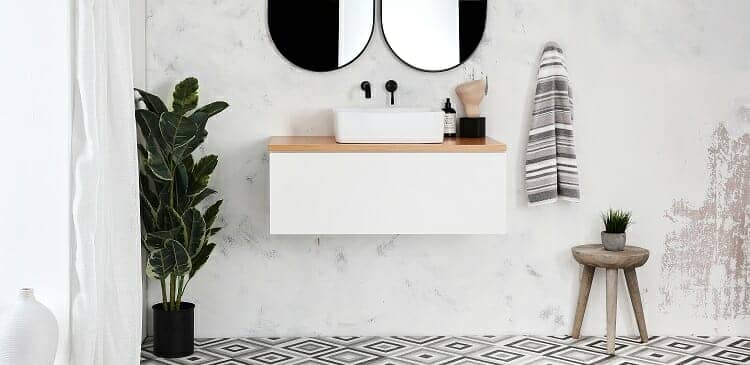 "Because white brings in light, it can cause an uplift in mood and bring an element of serenity if we are overstimulated. It also can really open a space both physically and in our minds."

Lee – Essentialise
Painting a bathroom white can bring a real sense of purity and zen.
Not only this, but with smaller bathrooms it can make them appear more spacious, open, and inviting.
When working with white you have the freedom to pair with any other colours you like.
Our particular favourites are grey, blue and black – all of which could be applied to modern or more traditional bathroom styles.
A matt black countertop sink with matching fixtures would look truly striking against white.
Orange Bathrooms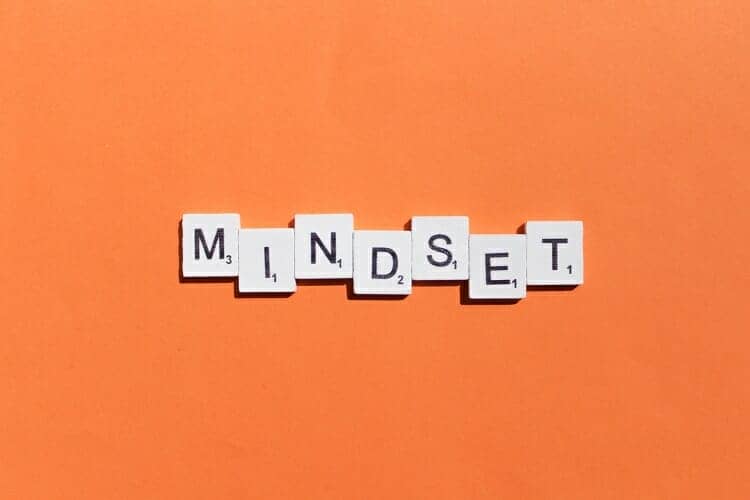 "It also compels us to be more social and it can give us a boost in optimism and hope. It is a warm colour that is welcoming and can raise our heartbeat "

Lee – Essentialise
Orange encourages positivity and energy and is a great colour to bring into the home, especially at the start of a new year.
Terracotta is an up-and-coming shade for 2022 and is more of a subtle tone of orange to incorporate in a bathroom easily.
Try laying some terracotta cement tiles to re-create a Mediterranean style villa.
Green Bathrooms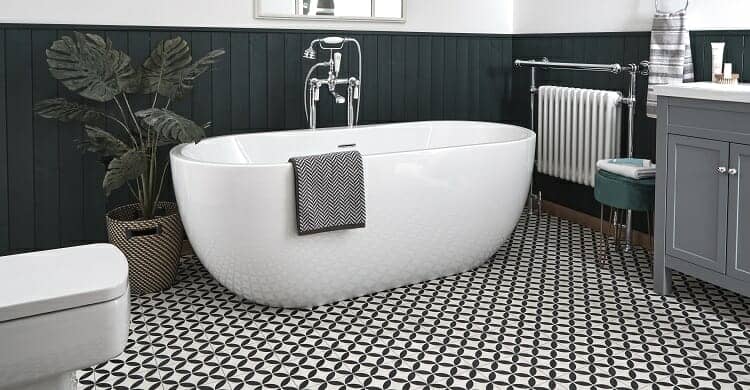 "Known as the colour of nature, and one that we have been surrounded by all through evolution, it can be beneficial for both our mood and our wellbeing."

Lee – Essentialise
Green is known to reduce anxiety and aid in clearing the mind.
It is very much on trend, especially with the ever-growing focus on bringing the outdoors in and using more natural materials and accessories in the home.
Introduce some sprawling houseplants to place on a shelf or vanity, paint the walls in sage or even use emerald green tiles to create a statement shower.
Pink Bathrooms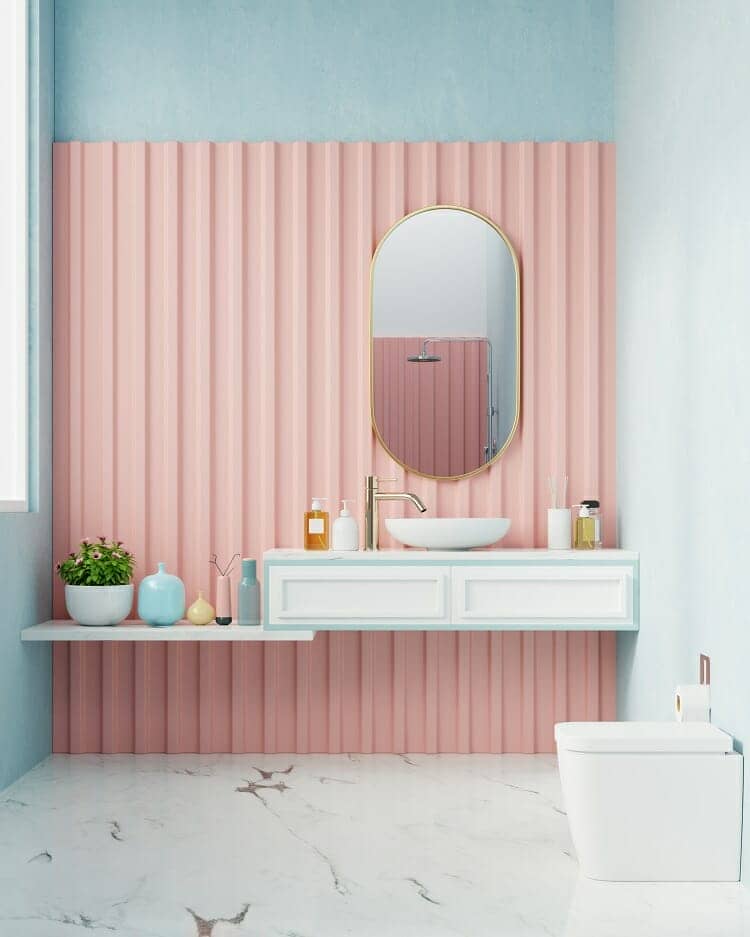 "Pink can boost our mood in a playful and soothing way."

Lee – Essentialise
Pink is another colour with calming effects but also has the ability to promote feelings of love and kindness.
The playful properties of pink make it a great colour for a cosy family bathroom.
Pale and muted pink wall panelling will bring depth and texture to the bathroom and styling with brass and brushed gold fixtures will create a warm and happy space.
Which Bathroom Colour Do You Love The Most?
Are you a fan of calming blue, or do you prefer the vibrancy of orange or the subtlety of white?
Let us know which bathroom colours are stealing your heart this year, in the comments below!
https://wpcdn.bigbathroomshop.co.uk/info/blog/wp-content/uploads/2022/01/boutique-blog-banner.jpg?strip=all&lossy=1&quality=70&ssl=1
491
1401
Rikki Fothergill
https://wpcdn.bigbathroomshop.co.uk/info/blog/wp-content/uploads/2019/08/bbs-blog-logo-300x82.png
Rikki Fothergill
2022-01-24 11:02:41
2022-01-24 11:02:42
The Best Bathroom Colours For A Positive Bathtime