Take one look at some of the most popular home interior accounts on Instagram and you will no doubt have seen black bathroom taps and brassware.
Over the last year or two, black taps have seen a rapid rise to the top of trendy bathroom 'must haves' – people simply cannot get enough of their striking matt black goodness!
But what good is having a trend-setting bathroom – loved by thousands of followers on social media – if you can't keep your new stunning matt black taps and fittings clean?
You could of course carry on as usual, but unlike 'regular' bath and basin taps with metallic finishes, matt black needs a more delicate and thoughtful approach to cleaning.
One false move with a heavy chemical cleaning product could see the demise of that perfect matt black finish – and with it, the end of your beautiful bathroom space!
So, to save you from disaster, read on to learn how to clean black bathroom taps and keep that stylish dark noir look you've been dreaming of!
---
---
Why Is Cleaning Black Taps Different?
As you have probably already worked out from looking at them, matt black taps have a different finish to standard bathroom tap designs – and we don't just mean the colour!
Unlike their chrome counterparts, matt black taps are designed to give that 'total' black look and rather than reflecting light they absorb it, giving the matt black finish.
The processes used to give your black taps this sleek matt finish makes them a little more sensitive than basic brassware, so simply picking the first cleaner you see is not always the best option.
There are a variety of techniques used to create that stunning matt black finish, with most manufacturers implementing either an electroplating process or something called PVD.
Other ranges feature painted coatings that are just as durable, and some techniques can be combined to produce that dark sophisticated finish.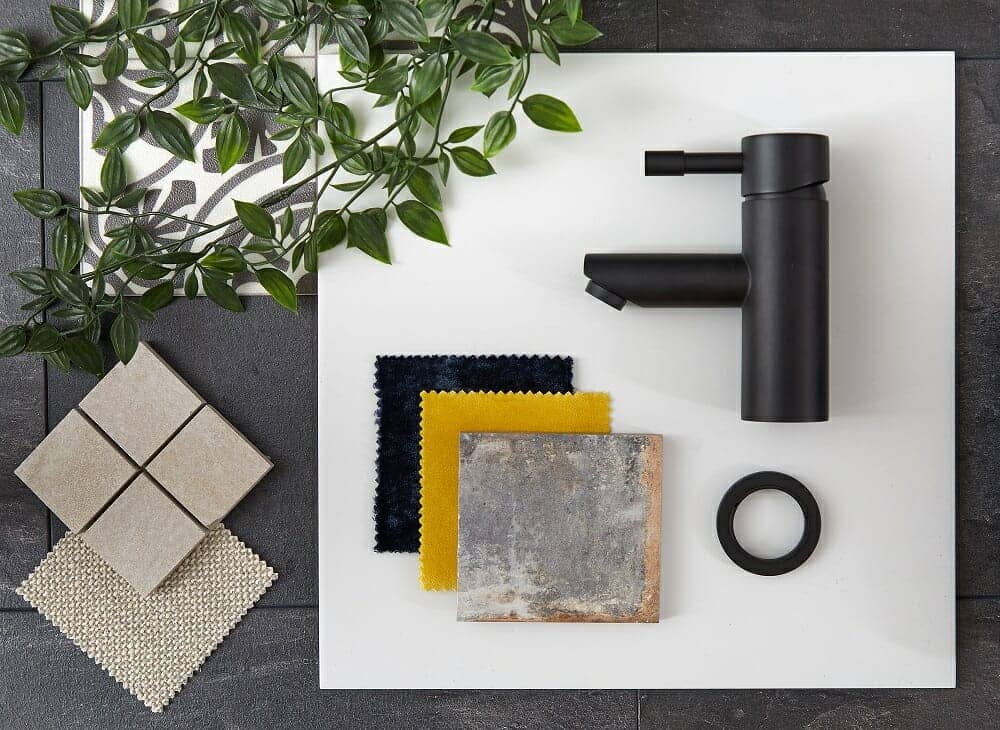 ---
Electroplating
Electroplating is a pretty scientific way of getting the black onto the surface of your taps and brassware.
The process involves a water-based paint solution being manipulated at the atomic level, with a current of electricity turning it into a super thin film of black coating.
This gives a durable finish that will stand up to everyday wear and tear, but you still have to be careful when cleaning.
PVD – Physical Vapour Deposition
PVD is a little like using one of those vacuum forming machines they used to have at school, as it involves using a vacuum to add a layer of thin film across the surface of the metal.
This vacuuming technique is said to be more effective than electroplating and will create a more resilient matt black finish, so it is becoming more popular.
Beating Back Black Tap Wear & Tear
Although both finishes add to the quality of your new black taps, any black finish can still suffer at the hands of harsh disinfectants and chemical cleaners.
That's why it is really important that you take the time to learn how to care for your black taps – however they are finished – to prolong their use and keep that style just how you want it.
---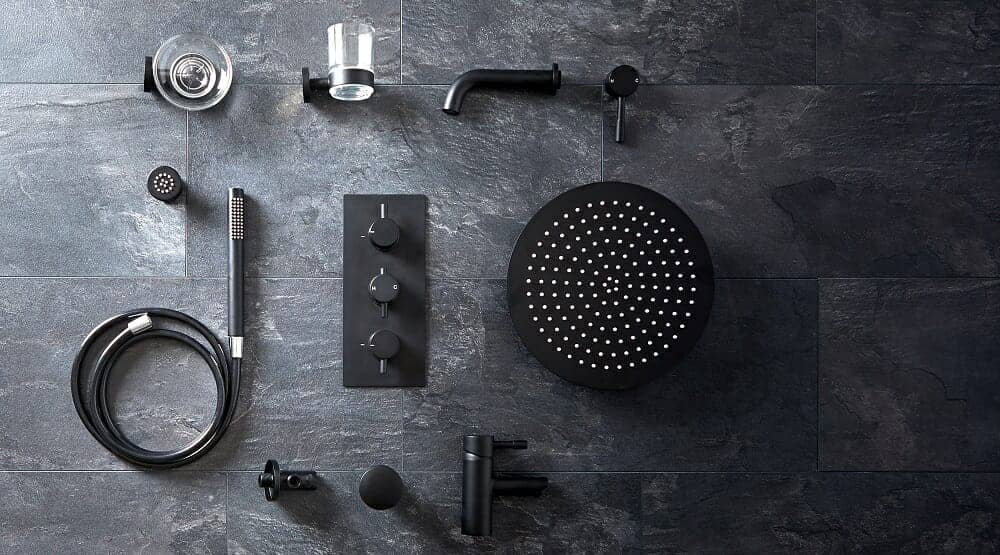 ---
How Do You Clean Matt Black Taps?
After all that, you may be worried about doing damage if you get black tap cleaning wrong, but honestly cleaning black taps and brassware is pretty simple, it just takes a little care and a little extra thinking.
Before you begin, there are a couple of things to remember.
Do not use the following when cleaning black bathroom taps.
Scourers, or anything abrasive or scratchy
Chemical based cleaners
Bleach
Polish or wax
Anything acidic like a homemade lemon spray
Remember, these dark taps are your pride and joy!
They are delicate and stylish – they're not a stainless steel saucepan!
Cleaning Black Taps
To get your black taps clean, just use warm water and a soft micro-fibre cloth.
Nothing more, nothing less.
Clean from top to bottom of the tap with minimal scrubbing, gently and without too much elbow grease.
And there you have it, clean black taps.
---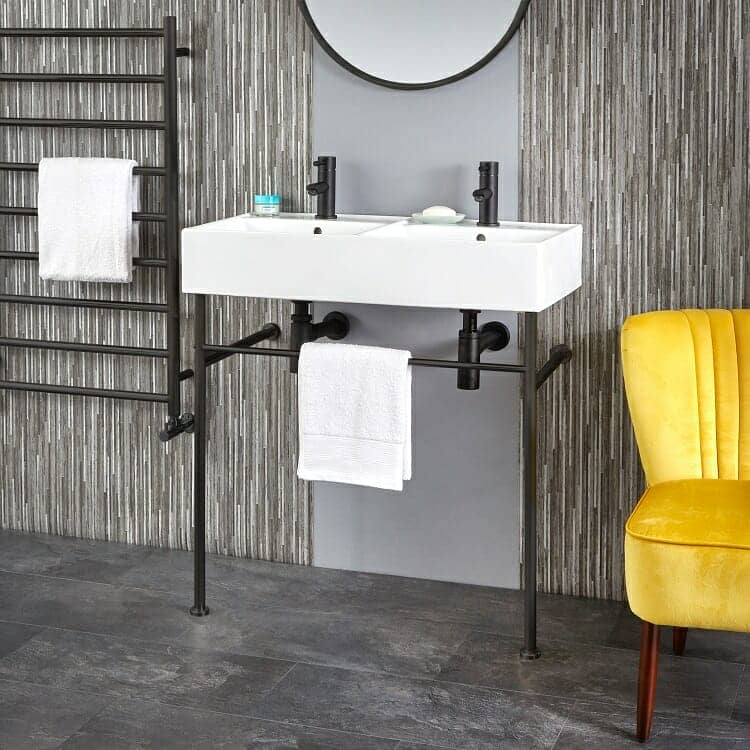 ---
Can Black Taps Be Scratched?
The short answer is, yes, they can.
Much like your car in the driveway though, you aren't supposed to run sharp objects down the side and across the top of your new designer taps to see if it scratches!
Of course, you wouldn't do that, but rings can be problematic with matt black taps and something we're all guilty of forgetting about from time to time.
If you don't want to remove your rings entirely when using your black taps, just be a little more aware of them and try to avoid scratching the surface of the tap.
What Are O-Ring Stains?
Once you've had your new black tap in place for some time, it can be natural to discover they have become a little stained by the grease applied to the O-ring.
This grease sits between the bottom of the tap and the top of your basin or bathtub.
You can try to remove this with a little warm soapy water and nothing else, but if you struggle and find that it won't come away it can be safe to use an alcohol cleaner to remove the grease from the base of the tap.
But be extremely careful.
If you are unsure or worried that a cleaner may be too strong for your taps, you can either contact the manufacturers directly, or drop us a line.
Take Care When Installing
Most of the damage done to brassware and taps usually occurs during the building and renovation phase – basically when you come to putting it in.
Be sure to check your new black taps as soon as they come out of the box – it should be flawless, with no imperfections in the finish.
Ensure you or the tradesperson you've employed to install the tap takes special care when handling and installing, after all, these are expensive bathware features and you want to keep them pristine!
Does Hard Water Make A Difference To Black Taps?
It can, because hard water produces more limescale.
Limescale is a chalky white colour and will no doubt stand out on any black brassware, so to keep that finish for longer you have to keep on top of it.
Just regularly cleaning can keep limescale away, so don't get lazy!
Be Extra Careful With Makeup
If you apply makeup in the bathroom, it's pretty much guaranteed that some of it will end up on your black taps.
These dusty particles can cause black taps to look a little cloudy when wiped away, so it's a good idea to keep a micro-fibre cloth nearby to eliminate any offending powder.
---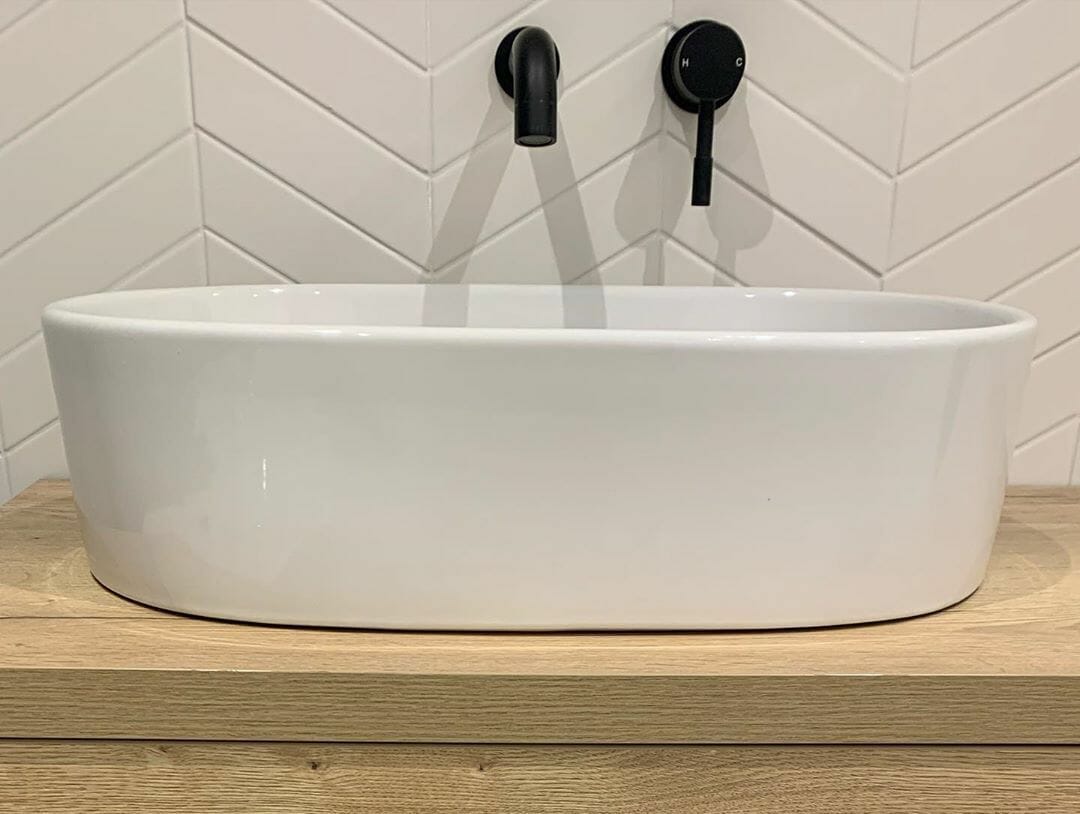 ---
What About Cleaning Other Black Brassware?
Obviously if you have black taps in your bathroom or en-suite, chances are you'll have a black shower, black shower head and perhaps other black accessories.
Do you need to use the same techniques to clean these too?
Well, yes, if you want them to keep their good looks.
Whether it's a wall-hung tap, freestanding bath tap or hand-held shower, treat each of these components with the same care as your taps and your luxury black bathroom will last longer.
---
How Will You Use Black?
Black taps and brassware may need a little more attention than other finishes, but we don't want that to put you off.
As long as you keep cleaning simple it shouldn't be a chore and you'll find your matt black taps look stunning for years.
So, if you're on the lookout for the perfect black tap to turn your bathroom into that ultimate insta styled space you dreamed about, check out the products in the black collection.
---
https://wpcdn.bigbathroomshop.co.uk/info/blog/wp-content/uploads/2020/04/SM-Mood-board-Black-Products1611.jpg?strip=all&lossy=1&quality=70&ssl=1
1200
2400
John Lawless
https://wpcdn.bigbathroomshop.co.uk/info/blog/wp-content/uploads/2019/08/bbs-blog-logo-300x82.png
John Lawless
2020-04-20 14:18:40
2020-05-22 11:58:32
How To Clean Black Bathroom Taps