From spotlights to wall lights and mirror lights, there's so many types and designs of bathroom lights available, which can make your choice and planning a scheme a little tricky. Bathroom lighting is essential for creating a space that's functional 24/7, and a good lighting scheme allows you to add another design element to the room, whether that's highlighting a vanity unit with an LED strip light or fitting dimmable downlights. So, if you're planning the lighting for a new bathroom or just want to update your existing lights, our expert buyer's guide has all the information and advice you need to help you choose the best lights.
How to choose bathroom lighting
To help you choose the best type of bathroom lights suited to your needs, it's important to take the following points into consideration:
Think about the times of day that you use the bathroom.
The amount of natural light the bathroom receives.
The position of the window.
The ambience you want to create and the features you want to draw attention to.
It's a good idea to create a floorplan on paper and mark out the position and dimensions of the basin, toilet, bath, shower, door and window, as well as the light switches, so you can then plan the lighting scheme. Working with an electrician will help you get the most out of your bathroom lighting scheme and ensure it's all installed correctly and safely too.
Deciding where you would like to position the bathroom lights at an early stage allows you to plan where to lay the cables and budget for the fittings and control options. Think about the type of lighting you need, and how it will have an impact on the overall look and feel of the space.
The key to a successful bathroom lighting scheme is to use multiple layers of light from a variety of sources. An interior designer will use colour and texture to enhance the look of a space, but a lighting designer uses a combination of task, accent and ambient lighting to create a bathroom that's not only functional but feels calm and relaxing. Practical lighting is needed for everyday tasks, while low-level ambient light creates illumination at night.
Take the style of your bathroom into consideration too. Modern bathroom lighting creates a smart, contemporary look and enhances a designer scheme, while traditional style lights are perfect for adding a touch of class and elegance. Chrome bathroom lighting is a good option for most schemes as it blends seamlessly in with any decor.
Bathroom lighting – 3 top tips
Here's our three top tips for choosing bulbs and the best position for light fixtures, for a bathroom lighting scheme that's stylish and functional.
1. Maximise natural light
Bring in as much natural light as possible into your bathroom, so choose window dressings that let the light pour in. If you are renovating your home or designing a new one, the best position for a bathroom is facing north, where the light is indirect, which creates a soft, diffused light.
2. Plan the position of light fixtures carefully
An overhead light source such as recessed spotlights will ensure the bathroom is functional. It's a good idea to combine overhead lighting with lights alongside or above the mirror, which creates a flattering reflection.
3. Choose the right bulbs
Bulbs come in various colour temperatures ranging from cool white to warm white and your choice will depend upon the lighting effect you want to achieve. A colour temperature of 2700K is ideal for bathrooms as it's the closest you'll get to natural daylight. The bathroom needs bright lighting for tasks such as applying make-up, but you also need to create a relaxing ambience, so put overhead lights on a dimmer switch so you get the best of both.
Different types of lights are required to achieve task and ambient lighting. Task lights include recessed downlights, spotlights, cabinet lights and mirror lights, while ambient lights include bathroom ceiling lighting and wall lights.
Recessed downlights
Recessed downlights are built into the ceiling for a neat, minimal finish. They can also be fitted into alcoves and recesses for a luxury touch. They come in both fixed and tilted designs. A downlight that can be tilted provides more flexibility, as you can direct the light where it's needed most.
When choosing downlights, you will need to check the fire rating. This is because, this type of lighting requires holes to be made in the ceiling for installation, which can compromise the fire integrity of the ceiling. Recessed lights that are fire rated avoid this issue, and have a rating that's measured in units of time, which indicates how effective the light is at reducing the spread of fire.
Spotlights
LED spotlights are great for adding smart, modern style to any bathroom. These feature a single light fitting, and come in two main styles including: bar, where the spotlights are in a row, and plate, which is where the lights are grouped together on a square or round base. The angle of the spotlight can be adjusted to highlight the different area of your bathroom.
Bathroom ceiling lighting
Bathroom ceiling lights are mainly fitted flush to the ceiling and are quite simple in design. But there are some ornate ceiling lights such as chandeliers, that are specially designed for the bathroom, if you want to make a statement. Most also feature a chrome finish that blends in easily with other chrome fixtures in your bathroom.
Bathroom wall lighting
Bathroom wall lights are ideal for adding both task and ambient lighting to your bathroom. They come in a range of designs, as well as single and double fittings, and can be fitted beside or over a mirror.
How to choose bathroom vanity lighting
The area surrounding your bathroom vanity unit receives a lot of use, and it's a space where you perform many tasks such as applying make-up, brushing your teeth, shaving and washing your hands, so it's important to choose the right of kind of lighting that will allow this space to live up to its full potential. There are many options available, but here's some tips on how to choose the best bathroom vanity lighting.
Bathroom wall lights are a great choice for lighting up the bathroom vanity unit and mirror area. They are stylish, functional and don't take up too much space, which makes them ideal for smaller bathrooms. The main aim of bathroom vanity lighting is that it illuminates you and not just the wall. Fitting a wall light on each side of the mirror will evenly light the face and prevent harsh shadows. But, if you don't have the space for a light on each side, you can fit a single light fixture above the mirror instead.
LED bathroom mirrors provide a great way to brighten up any bathroom, and are perfect for adding a touch of designer style. An LED bathroom mirror will add both ambient and task lighting to your bathroom. The LED lights provide bright enough illumination for applying make-up or the morning shave, yet are also dim enough for a relaxing soak in the evening. They come in a range of styles and sizes to suit any bathroom design requirement.
At BigBathroomShop, LED bathroom mirrors and LED mirrored cabinets are all IP44 rated, making them safe for use in a bathroom environment. They boast some great features including heated demist pads and on/off sensors to make your morning routine even easier.
Looking for a new mirror but not sure which to choose? Our expert bathroom mirror buying guide will point you in the right direction.
A different kind of light is required for applying make-up or shaving – this is known as task lighting. Bathroom mirror lights provide a great way to add all-important task lighting.
You could opt for a bathroom mirror or mirrored cabinet with integrated lights, or fit a light fixture above the mirror. Bathroom wall lights fitted either side of the mirror work equally well too.
What is ambient lighting?
Ambient lighting is important for providing overall illumination to your bathroom – it should add a comfortable level of brightness without glare. You can add ambient lighting with bathroom ceiling lights and wall lights.
By fitting a dimmer switch, you can easily control the ambience of the room. Dimming the lights low helps to create a relaxing ambience for when you fancy a soak in the bath.
LED lights are available in a choice of colours including natural white, warm white and cool white. Your choice will also effect the ambience of the room. Warm white is ideal for giving your bathroom a calm and peaceful atmosphere while cool white brings a brighter more energised feel to the space. Natural white, as the name suggests, mimics natural light.
Incorporating accent lighting into your bathroom design can create a spa-like feel, and highlights certain areas you want to make a feature of.
You could add downlights into recessed wall areas or fit some low-level lights around the skirting area for a luxury touch. You could even highlight a wall mounted vanity unit by fitting a light source underneath. LED strip lights are also great for highlighting a vanity unit or mirrored cabinet, and they are quick and easy to fit too.
For the ultimate luxury look and to make a statement, fit spotlights in the floor or the wall behind a freestanding bath.
Don't forget to make a feature of your shower area too. When lighting your shower enclosure avoid fitting an overhead light in the middle, which only creates an unflattering effect. Instead fit a number of spotlights so that they create a wash of light down the back wall of enclosure; this draws attention to the colour and texture of the tiles and enhances a sense of space.
Save energy with bathroom LED lighting
When choosing bathroom ceiling lights, or any kind of lighting for your home, make sure to fit energy saving LED lights. Here's a rundown of the advantages of using LED lights:
Energy efficient and low Wattage – helps to keep electric bills low and protects the environment
Long lifespans – reduces lamp replacement costs
Instant illumination – no waiting around for the light to get brighter
Retrofit – will directly replace halogen or incandescent bulbs
Available in a range of colour temperatures and base fittings to suit your lighting requirements
Bathroom lighting zones and regulations
Care needs to be taken when choosing lighting for your bathroom, as there are strict regulations regarding the type of lights that can be used. The light fixture you choose needs to have the relevant IP rating for the zone in which it will be installed.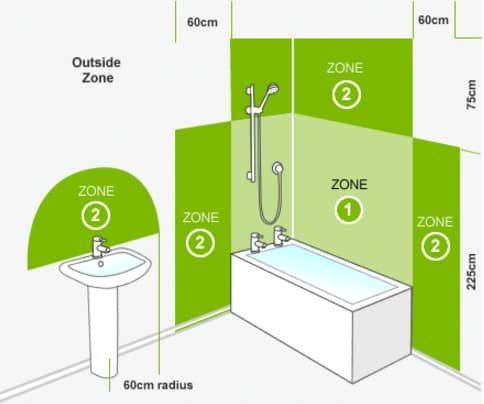 IP ratings explained
All light fixtures have an IP rating – ingress protection – and this is what determines where the light can be fitted in a particular environment. The higher the IP rating, the higher the level of protection against dust (digit 1) and moisture/waterproofing (digit 2) for example IP65.
Bathroom zones explained
When choosing bathroom lights, you will need to decide which area they will be fitted and how exposed they will be to water.
Electrical safety regulations break the bathroom area down into zones to help you choose the right light fitting with the most appropriate IP rating.
Zone 0 – is the area inside the bath or shower tray. Lights inside this area need to be low voltage and have a minimum rating of IP67. An IP67 rated light is immersion proof.
Zone 1 – is the area directly above the bath or shower to a height of 2.25m from the floor. You should choose a light with a minimum rating of IP44. An IP44 rated light is protected against water spray from any direction. An RCD (residual current device) must be used to protect the circuit in this zone if the light has a 240v supply.
Zone 2 – covers the area 0.6m outside the bath's perimeter and to a height of 2.25m from the floor. You should choose a light with a minimum rating of IP44 for this area.
Outside zones – cover areas that are outside of zone 0, 1 and 2 and have no contact with water. No IP rating is required for this area.
Get creative with these bathroom lighting ideas and transform this much used room into a space that oozes style.
Make a feature of niche shelving by adding in a spotlight. This is a great way to highlight a display.
Choose sleek wall lights for a clean, minimal look. Place next to the mirror or a piece of artwork.
Waterproof LED strip lights will add wow factor to your bathroom – fit underneath a vanity unit, mirrored cabinet or into a recessed area.
Fit waterproof plinth lights around the base of cabinets and even around the shower area for a designer statement.
Illuminate and make a feature of your freestanding bath by fitting spotlights into the floor.
Use filament bulbs to enhance a vintage inspired bathroom.
https://wpcdn.bigbathroomshop.co.uk/info/blog/wp-content/uploads/2021/04/wall-hung-toilet-blog-banner-1.jpg?strip=all&lossy=1&quality=70&ssl=1
491
1401
Rikki Fothergill
https://wpcdn.bigbathroomshop.co.uk/info/blog/wp-content/uploads/2019/08/bbs-blog-logo-300x82.png
Rikki Fothergill
2021-04-26 15:06:05
2021-04-26 15:06:07
Why Buy Wall Hung Toilets?
https://wpcdn.bigbathroomshop.co.uk/info/blog/wp-content/uploads/2020/08/bathroom-taps-guide-blog-banner.jpg?strip=all&lossy=1&quality=70&ssl=1
491
1401
John Klee
https://wpcdn.bigbathroomshop.co.uk/info/blog/wp-content/uploads/2019/08/bbs-blog-logo-300x82.png
John Klee
2020-08-25 10:54:58
2020-08-25 16:33:24
A Complete Guide to the Different Types of Bathroom Taps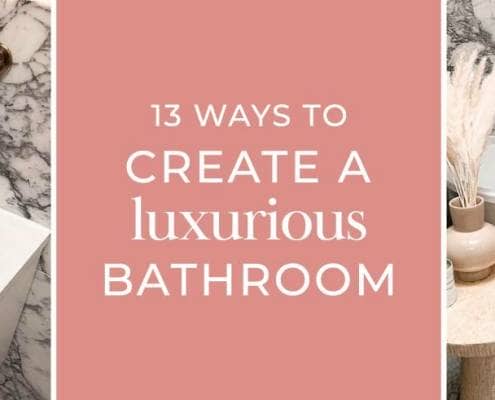 https://wpcdn.bigbathroomshop.co.uk/info/blog/wp-content/uploads/2020/08/luxury-bathroom-blog-banner.jpg?strip=all&lossy=1&quality=70&ssl=1
491
1401
John Lawless
https://wpcdn.bigbathroomshop.co.uk/info/blog/wp-content/uploads/2019/08/bbs-blog-logo-300x82.png
John Lawless
2020-08-24 12:52:22
2020-08-24 13:11:14
13 Ways To Create A Luxurious Bathroom
Hi, I'm Liz, an interiors blogger. My main focus area is the bathroom, where I aim to inspire anyone who's planning and designing a new bathroom – you'll find plenty of tips, how-to guides and a wealth of ideas!
Dawson Court
Billington Road Industrial Estate
Burnley
BB11 5UB