Tik Tok Renovation Lover, Becca, Shares Her Top Tips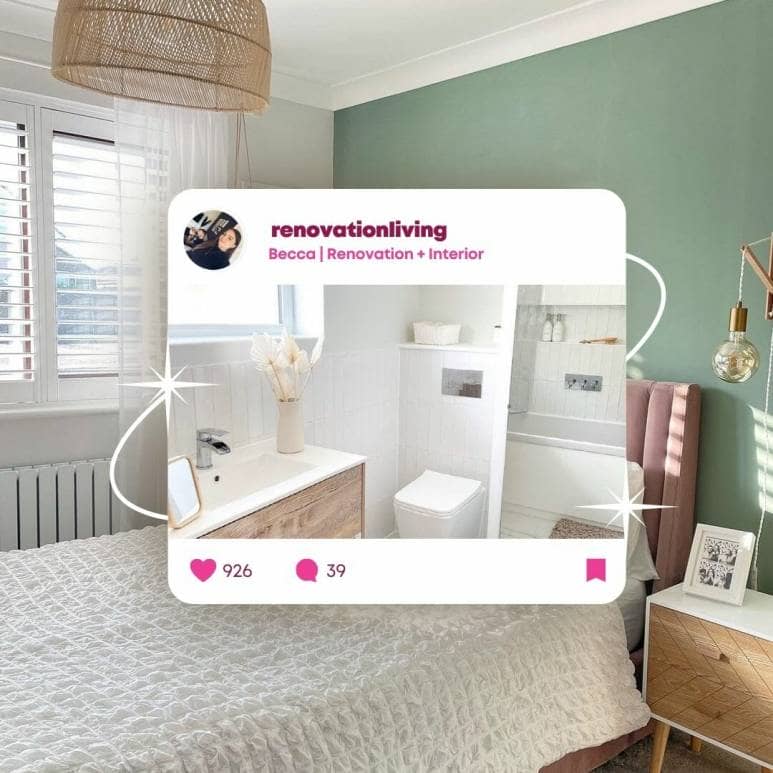 In 2019 Becca & Jordan bought their first home – a beautiful semi-detached bungalow. For the last two years they have been slowly gutting, renovating and grafting to turn an outdated home into their dream pad.
Just wait until you see you the before & after shots – wow!
'Originally, the bungalow had pink and green carpets with a salmon bathroom that needed MAJOR modernisation' said Becca.
Think 1980's salmon bathroom carpets, brown toilet seats and floral tiles and you'd have the perfect image of Becca's old bathroom.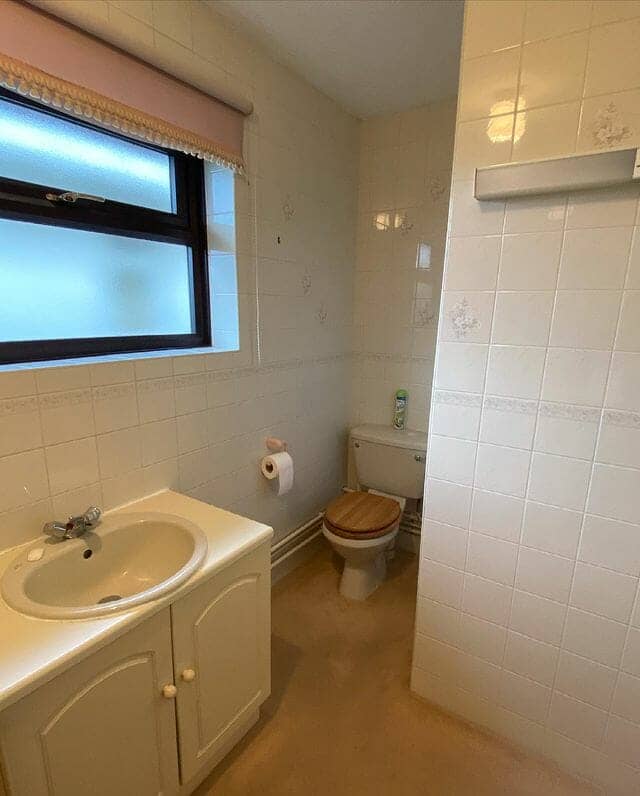 'The main bathroom was the last room we had left to tackle before completing the inside of our now beautiful home'.
Becca and Jordan started the main bathroom renovation process in February, earlier this year. Eager to get rid of the Grandma inspired bathroom, the couple gutted the space and happily waved goodbye to the aged salmon suite.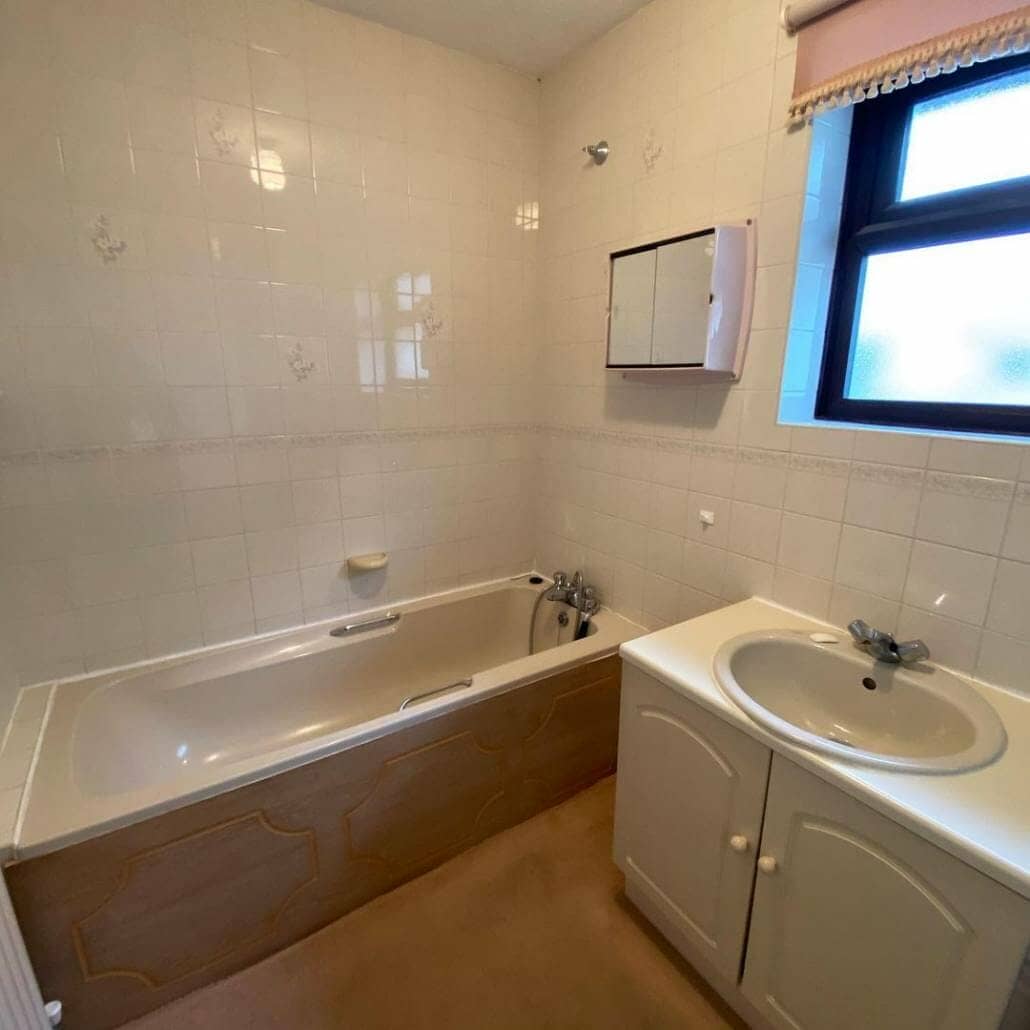 We have been lucky enough to work with Becca on this beautiful renovation, so we took some time to ask her a few questions about the process.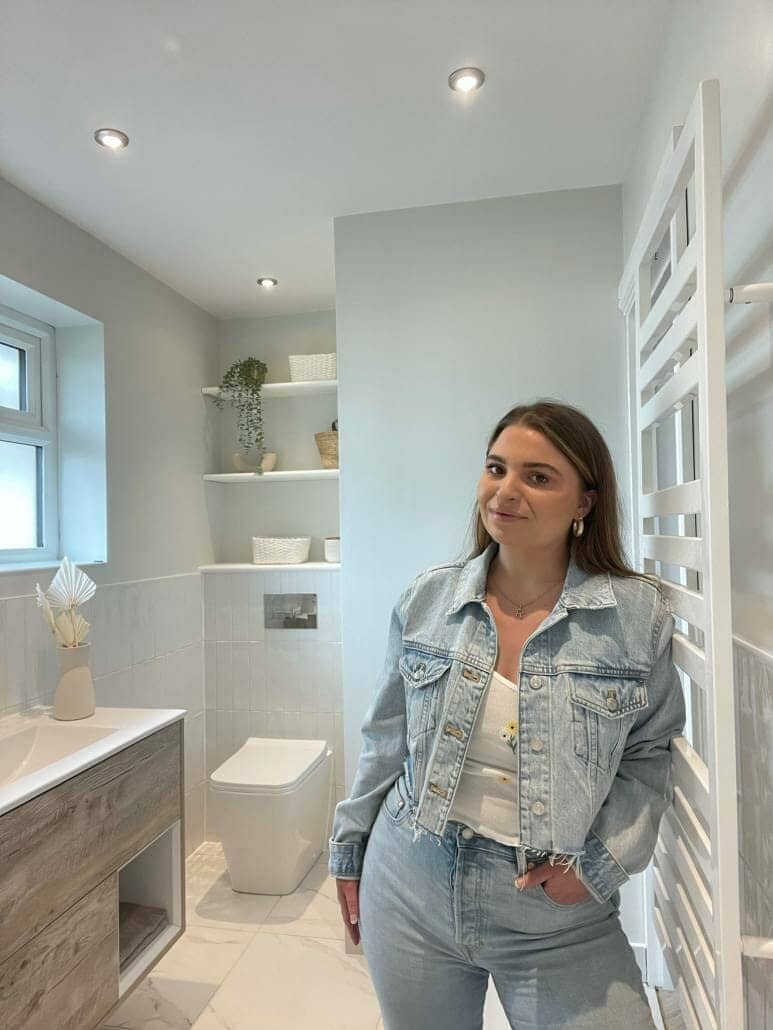 Q: Where Did You Start When Renovating Your Bathroom?
'As we have an en suite, we decided to renovate this first – at the time it was more affordable to re-do than our main bathroom. So, that was one of the first rooms we renovated. We continued to use the en-suite as our main bathroom throughout the renovation. We had to live with our main bathroom, in it's salmon condition for over a year whilst we saved money!'
Q: If Any, What Money Saving Advice Would You Give?
'My top tip for saving money when renovating a bathroom, is to try to keep the layout the same as the original layout. It becomes quite costly when you start moving the bath, toilet or sink as it means extra plumbing costs!'
Q: Did You Enjoy The Renovation Process?
'We loved the renovation process. I find that bathrooms are the hardest room to design, as the decisions are so permanent compared to choosing a paint colour or accessories! That being said, now that it's finished I am absolutely in love with it and it's now up there with one of our favourite rooms.'
Q: If Anything, What Part Of The Bathroom Would You Say People Should Always Invest In?
'I would suggest investing in a good shower and bath. It's something that you will use the most and over the years have a lot of wear and tear, so it's worth spending a bit extra so it's powerful and long lasting.'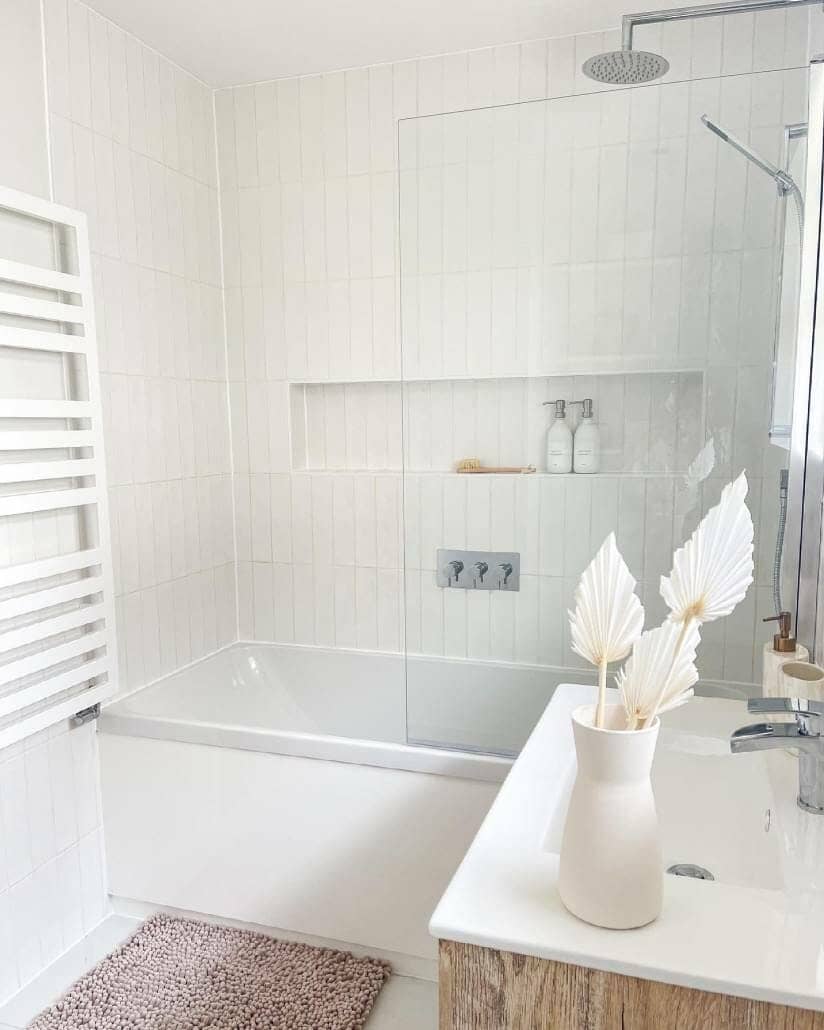 Q: What Is Your Favourite Thing About Your New Suite?
'100% the vanity unit! I absolutely love it and want to take it with us to our next home!'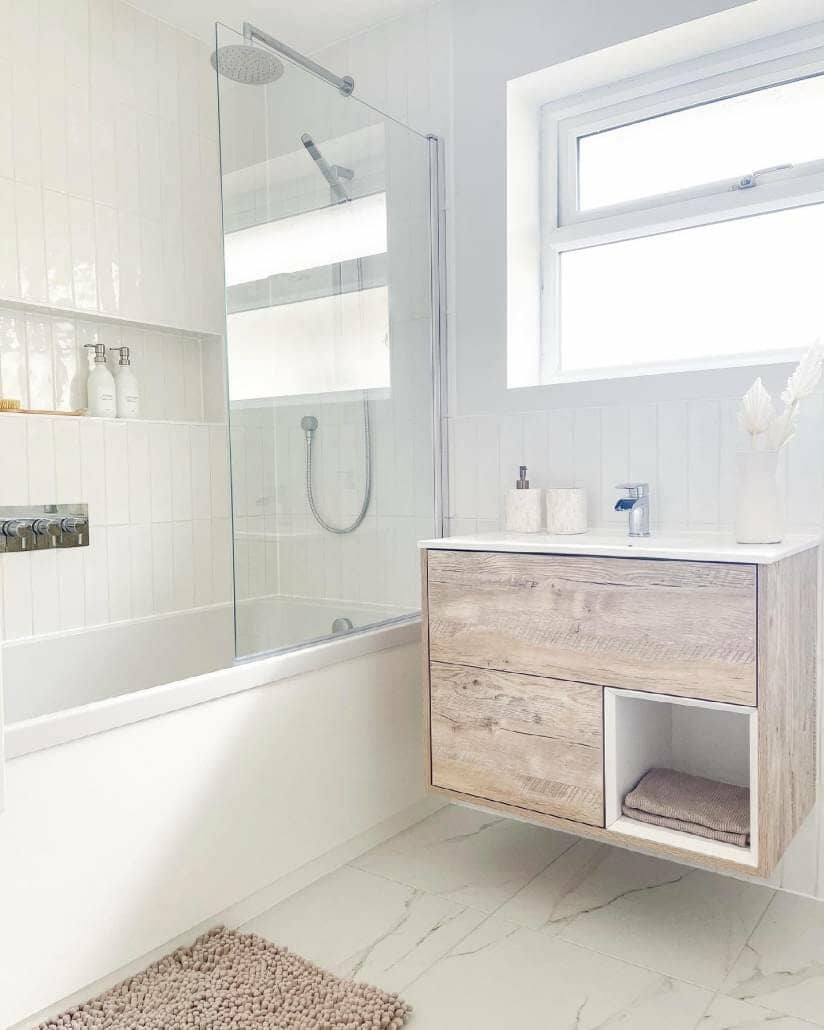 Q: How much did it cost to renovate your bathroom suite?
 'It cost a total of £3,685'.
Q: Do you have any tips on how to keep costs down as much as possible?
'We did the tiling ourselves which saved us lots! There are so many amazing tutorials out there on YouTube and even TikTok. We also kept the bathroom looking minimal and open so didn't spend extra money on accessories.'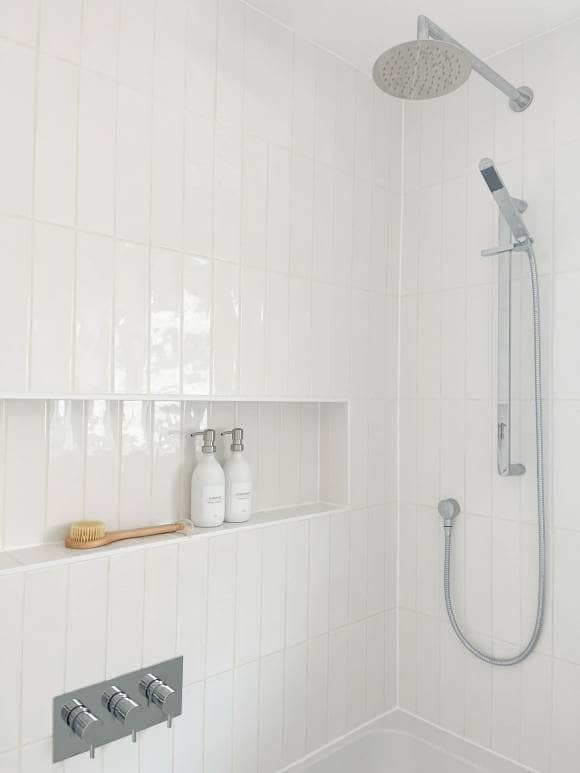 Q: Are there some DIY tasks that you decided to take on, instead of paying somebody?
'Yes the tiling! Which was tricky but Jordan (my partner) is super handy with stuff like that and it ended up looking amazing. We hired someone for plumbing and plastering because they're so important we wouldn't want anything to go wrong. Everything else we did ourselves!'
If you love the decor choices in this bathroom just as much as we do, you can follow the rest of Becca's reno journey over on her Instagram or Tik Tok below.
Shop The Look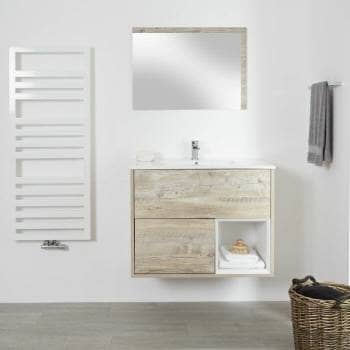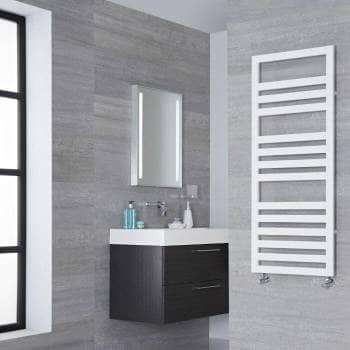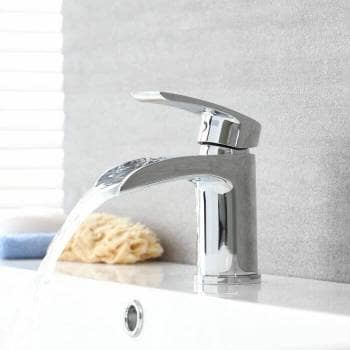 Rikki has a passion for interior design and an even bigger passion for writing about it. When she isn't writing about gorgeous bathroom interiors, you'll find her discovering all of the latest trends.
https://wpcdn.bigbathroomshop.co.uk/info/blog/wp-content/uploads/2021/08/becca-blog-banner.jpg?strip=all&lossy=1&quality=70&ssl=1
491
1401
Rikki Fothergill
https://wpcdn.bigbathroomshop.co.uk/info/blog/wp-content/uploads/2019/08/bbs-blog-logo-300x82.png
Rikki Fothergill
2021-08-19 16:41:48
2022-01-11 15:31:51
Tik Tok Renovation Lover, Becca, Shares Her Top Tips