If you're on the lookout for some beautiful shiny and new bathroom taps, we have 11 beautiful bathroom tap ideas to fill your boots with.
It's time to part ways with that scratched, old, lifeless tap that has served you well for the past few years. Battered, bruised it's fair to say it's taken a beating.
Say your farewells and replace the old boy for a more stylish, younger model and oh, do we have plenty to choose from…
Monobloc Mixer Taps Ideas
Wall mounted Taps Ideas
Beautiful Waterfall Effect Taps Ideas
High rise taps
Bath Shower Mixer Taps
Pillar Taps
Black Taps
Brushed Gold Taps
Oil rubbed bronze Taps
Brushed Copper
Bath Filler Tap
If you're looking for a contemporary upgrade to your basin taps, consider a monobloc mixer tap design.
The monobloc combines your hot and cold-water supply into a single water flow. Meaning you can choose your perfect water temperature with the easy adjustable tap handle.
A Mono basin mixer tap is usually found in more modern homes. Their sleek designs will compliment most bathroom designs and are a great option If you are working with a compact space.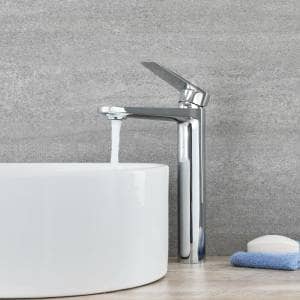 Here at Big Bathroom Shop our monobloc mixer taps are made from solid brass and each incorporate ceramic disc technology to prevent leaks and drips.
What makes our monobloc collection even better Is that you also have plenty of finishes to choose from; The monobloc Nero tap is available in a beautiful, silky matt black, as well as, other fabulous finishes such as brushed gold, chrome, oil rubbed bronze and brushed copper.
Instagram Handle @renov8.13.5
One of the many perks of opting for a wall mounted tap is how well they go with almost an interior style. Opt for a modern, spa like design or more a Victorian traditional style, depending on your personal preference.
Wall mounted tap designs provide extra room on your basin top to place soaps and lotions.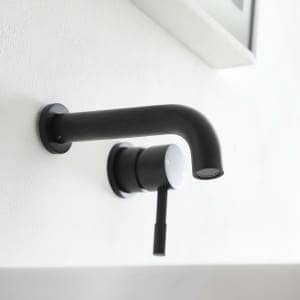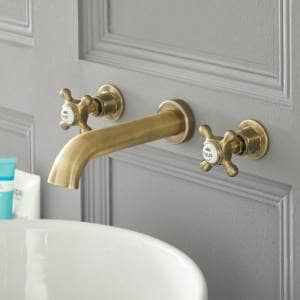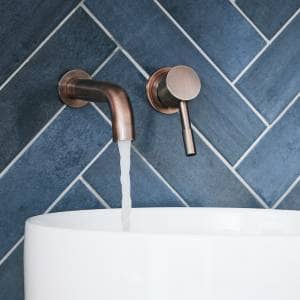 All of our wall mounted taps are made from solid brass and come with a lever handle for effortless temperature control.
Bring a waterfall affect to your dream bathroom with the Milano Clarus brushed gold wall mounted tap or, if you're more of a minimalist, the Milano Nero has a beautiful matt black option.
Add a hotel boutique touch to your bathroom, cloakroom or en-suite and shop the collection.
Instagram Handle @_daisycottage
So, if you love having all your favourite skin care products strategically placed on your basin, for easy access, a wall mounted tap may be the tap for you.
Create your own home spa by pairing a wall-mounted tap with a wall hung basin, or go for a statement look with a vibrant finish such as brushed copper.
Beautiful Waterfall Effect Tap Ideas
Don't want to settle for a normal flowing tap? Do you long for the spa-like vibes of a waterfall tap feature? Well, long no more.
We have a gorgeous selection of stylish, relaxing waterfall taps that will compliment your bathroom.
Waterfall taps have a wider and larger opening than regular taps, helping them deliver a waterfall effect.
Big Bathroom Shop waterfall basin taps also feature a mechanism that works to control the temperature and flow to give you the best hand washing experience for you and your family.
Waterfall designs work especially well for bath taps. Imagine this…
It's been a stressful day and all you want is a long soak. You turn on the bath taps and get the bath running, ready for a soak.
The water elegantly lands in the tub. Naturally flowing like a waterfall, gradually filling up the tub with your favourite bubble bath. Dreamy thought, right?
The high-rise tap-  a tall, slender, and stylish tap designed to pair beautifully with countertop basins. High-rise taps have a monobloc functionality for practical use and easy to control temperature flow – what more could you want?
Their slim design means they hang elegantly over the increasingly popular countertop basins. This ultimate combo will give your bathroom that extra 'wow' factor we all strive for.
Instagram Handle @ourwanderfulhome_2
If you have a busy home you might want to consider a bath/shower mixer tap. Available with shower handset and flexible hose, making it much easier to wash the little one's hair, the bath shower mixers are not only a great family friendly option, they are also available in but super stylish designs.
The mixer blends hot and cold water to help you find the perfect washing temperature.
You can either fill the bath or have a bath and shower experience all in one go. We love a freestanding bath and freestanding mixer tap combo.
Pillar taps are one of the most traditional taps you can get. Crosshead pillar taps in particular have a real vintage feel about them.
Pillar taps allow you to independently control the hot and cold water from two separate spouts, therefore two tap hole basins are required if you'd like to incorporate this style of tap in your bathroom.
As we mentioned above, you usually find that pillar taps are inspired by traditional designs. However, we have both modern and traditional taps to choose from, because who doesn't love plenty of choice?!
Take the Milano Mirage, a beautiful modern chrome pair of taps. Designed & created to add a contemporary flare to your space and with easy-to-use lever handles.
Alternatively, if you appreciate a traditional piece, we have the Milano Elizabeth pillar taps and even better, we have them in a range of hand finished finishes including brushed gold, oil rubbed bronze and chrome.
Black bathroom taps have taken the bathroom interior world by storm in the last year. It's no wonder when they look this good. From minimal homes, to statement, there is a black tap to suit all.
One of our most popular ranges includes the Milano Nero collection. The Nero range is filled with beautifully designed black bathroom furniture for a modern bathroom.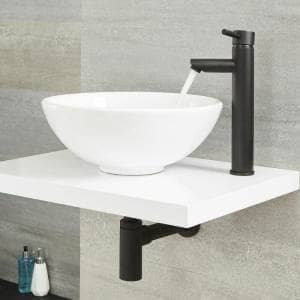 The Nero black taps are made from solid brass and hard-wearing matt black finish to ensure the black coating lasts.
That's why it is really important that you take the time to learn how to care for your black taps – however they are finished – to prolong their use and keep that style just how you want it.
If you want to find out more about how to clean black taps, tap here
We have three black tap designs, wall-mounted with black handles, mono, and high rise – so you have a variety of designs to choose from.
One of our most favourite trends to surface in the last twelve months has to be the warm and welcoming hues of brushed gold taps.
Whilst we and many interior designers are revelling in this gold fitting renaissance, it's a finish worth considering and here's why…
Crafted from lead-free brass, and hand finished in a hard-wearing brushed gold, for a truly authentic look. The gold is moisture resist, meaning you will see less water spots.
Your tap, your choice – you'll be pleased to know we have modern and traditional designs in this gorgeous finish. Shop the Clarus, if contemporary is more your style or the Elizabeth for a traditional touch.
Oil rubbed bronze taps are part of the Milano Elizabeth range. Available in a variety of designs, giving you plenty of options. We have wall-mounted taps for a spa-feel, high rise taps perfect for countertop basins, bath shower mixer taps and so much more.
Like the brushed gold, the oil rub coating is hand finished, so every tap is completely individual. If you're a lover of raw, eccentric interior décor, we'd definitely recommend the oil rubbed bronze tap collection.
Very similar to the oil rubbed bronze, except with more of a vibrant, orange flare. Our brushed copper taps are only available in contemporary designs, perfect for industrial inspired interiors.
We have a beautiful range of copper freestand taps. Designed with a swan neck that elegantly flows over the bath.
Bath filler taps require two tap holes but work in the same way as a monobloc basin tap. They mix cold and warm water into one supply. Which makes them the perfect tap to go with your bath.
Unlike two separate taps, the bath filler mixer tap allows you to set temperature as it flows. This makes it easier to control the temperature and get your bath water just right without having to keep checking how hot or cold the water is.
So, not only are bath fillers efficient, they're also super stylish. Similar to most of our ranges, we have plenty of styles to choose from.
There we have it, Big Bathroom Shops top 11 tap beautiful tap ideas. We hope you found a bath or basin tap you love. If not, shop our entire tap collection here.
Or if you're still unsure, browse our bathroom tap buying guide.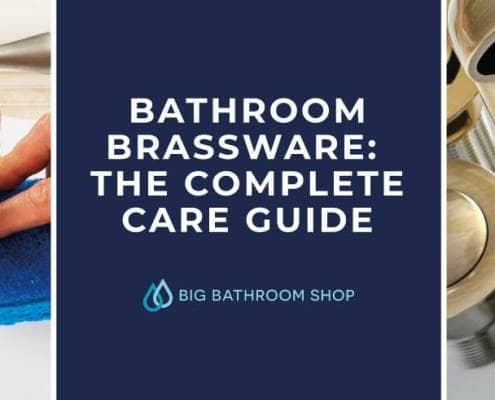 Care for your bathroom brassware in the best possible way with the help of our complete brassware care guide!
https://wpcdn.bigbathroomshop.co.uk/info/blog/wp-content/uploads/2022/02/insta-blog-banner.jpg?strip=all&lossy=1&quality=70&ssl=1
491
1401
Rikki Fothergill
https://www.bigbathroomshop.co.uk/info/blog/wp-content/uploads/2019/08/bbs-blog-logo-300x82.png
Rikki Fothergill
2022-02-28 17:21:54
2022-04-05 13:10:35
Bathroom Brassware – The Complete Care Guide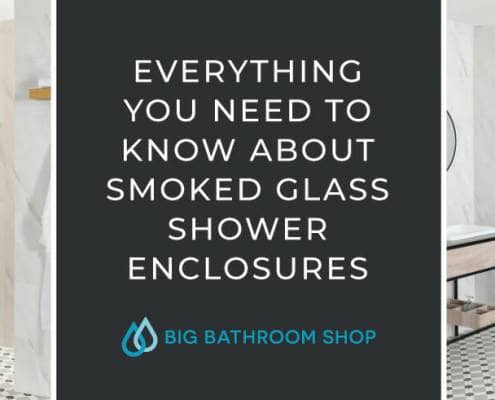 Discover our latest product drop - The Milano Luna smoked glass shower enclosures.
https://wpcdn.bigbathroomshop.co.uk/info/blog/wp-content/uploads/2021/11/enclosures-blog-banner.jpg?strip=all&lossy=1&quality=70&ssl=1
491
1401
Rikki Fothergill
https://www.bigbathroomshop.co.uk/info/blog/wp-content/uploads/2019/08/bbs-blog-logo-300x82.png
Rikki Fothergill
2021-11-23 13:22:48
2021-11-23 14:54:05
Everything You Need To Know About Smoked Glass Shower Enclosures
Rikki has a passion for interior design and an even bigger passion for writing about it. When she isn't writing about gorgeous bathroom interiors, you'll find her discovering all of the latest trends.