Shower towers provide a great way to inject designer style into any modern bathroom. They come in a wide range of designs and finishes, and are surprisingly straightforward to install.
Before choosing a shower tower, there are a number of things that you need to take into consideration first.
So, if you're thinking about choosing one for your new bathroom, here's all you need to know to help you determine if a shower tower is the right choice for you.
ALREADY HAVE A SHOWER TOWER IN MIND? – CLICK THE IMAGES BELOW TO EXPLORE OUR LUXURY COLLECTION.
A shower tower is where the shower head, hand shower, body jets and controls are incorporated into one tall column.
Behind the panel is where the pipework and fixtures are neatly hidden away, which ensures a neat and tidy finish.
A shower tower panel features anti-scald technology to ensure a safer showering experience.
Why choose a shower tower?
One of the main reasons to opt for a shower tower panel is that it removes the need to buy a shower head and shower valve separately. All you need to do is decide on a style, which makes things a little easier.
Stainless steel shower towers deliver an amazing showering experience that's sure to leave you feeling awake and refreshed. The fixed shower head delivers a refreshing rainfall effect, while the massaging body jets help to soothe aches and pains. The handshower allows you to rinse and clean around your shower enclosure with ease.
A shower tower is also perfect for adding designer style and luxury to your bathroom. Shower towers are easy to install; all you need to do is connect the pipework and fit the panel to the wall, and it's not as complicated as you may think. They are simple to use too. A diverter allows you to switch between functions, while the other handles control the flow and temperature of the water.
They come in a variety of designs and finishes including chrome, black and gun metal. Chrome is a great option as it blends seamlessly in with any bathroom décor, while black will create the ultimate contemporary look. Shower towers are typically made from stainless steel or aluminium, and there's also recessed designs available. A recessed panel is a great option for enhancing a sleek, minimalist bathroom, but does require more planning when it comes to installation.
What to consider before choosing a shower tower
Before choosing a wall mount shower tower it's important to check the type of water system your home has. Shower towers require high water pressure, usually 2.0 bar or more, to ensure the best possible performance.
Water pressure systems are made up of a combination of a boiler and water storage tanks. Some homes may not have a boiler, but will have a hot and/or cold water tanks, and other properties have a boiler but no water tank.
Cold water tank in the loft and a hot water cylinder elsewhere
This means your home has a low pressure water system, which is also known as a gravity-fed system. You will need to choose a shower that's designed to work with a low pressure system.
Combination boiler
This means your home has a high pressure vented water system. The boiler will most likely be fitted in the kitchen, and there will be no cold or hot water storage tanks. A combi boiler is fed directly with mains pressure cold water, which is then quickly heated and pumped around your home. A high pressure system means you can choose any shower.
Hot water tank but no cold water tank
This means your home has a high pressure unvented water system, and you can choose any shower. The water is stored at mains pressure in a hot water tank. It is heated by immersion heaters that are attached to the side of the tank or a central heating boiler.
3 of the best shower towers
Not sure which shower tower to choose? We've picked out three of the best shower towers from BigBathroomShop to help make your choice easier.
Milano Orton Black Shower Tower – £300
The Milano Orton black shower tower is a great option for adding bold, designer style to your bathroom. Featuring a black finish and a contemporary design, this shower tower has an integrated shelf, so you can keep your showering essentials close to hand. It also has two body jets, hand shower and a rain shower head for a spa-like showering experience.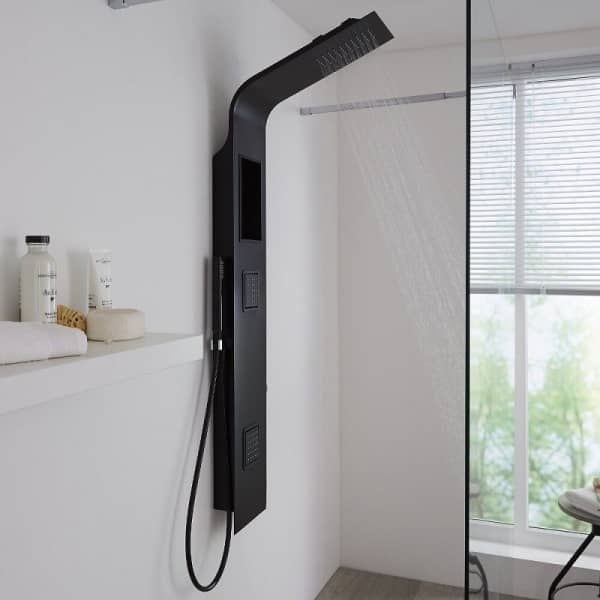 Milano Lisse Concealed Shower Tower – £670
The Milano Lisse concealed shower tower complete with unique wet room glass screen shower head is sure to make a statement in any modern bathroom. Featuring a chrome and black finish, the shower panel fits into the wall for a neat, streamlined finish, while the shower head has been designed to support and stabilise a wet room glass screen. The panel features four body jets and a hand shower.
Milano Shower Tower with Waterfall Head – £660
The Milano stainless steel thermostatic shower tower delivers a superb showering experience. It incorporates two body jets, hand shower and a dual function shower head with waterfall and rain shower options. Easy to install, this shower tower will add smart, modern style to your bathroom.
How to install a shower tower
If you have plumbing and DIY experience then you can easily fit your new shower tower, but if you lack the skills, then we highly recommend hiring a professional to carry out the installation work.
Step 1. Run the water feed pipes for the hot and cold water to where the panel will be fitted. The hot water feed pipe must be on the left (when viewed from the front).
Step 2. Remove the wall brackets from the back of the panel and determine the best possible height for installation. Mark the position, drill and secure the brackets to the wall.
Step 3. Connect the panel to the water supply pipes. Check for leaks.
Step 4. Positon the panel against the wall and secure with the supplied screws to the wall brackets.
To achieve optimum performance, the hot and cold inlet pressures should be balanced within 10% of each other.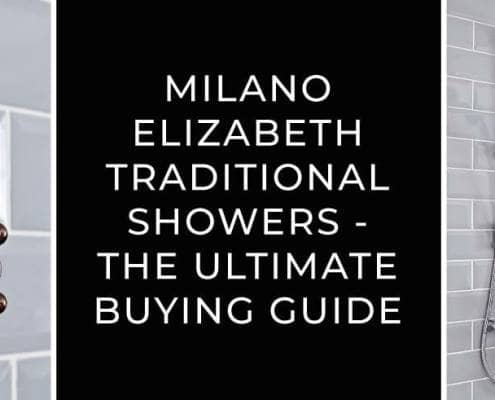 https://wpcdn.bigbathroomshop.co.uk/info/blog/wp-content/uploads/2021/05/milano-blog-banner.jpg?strip=all&lossy=1&quality=70&ssl=1
491
1401
Liz Tabron
https://wpcdn.bigbathroomshop.co.uk/info/blog/wp-content/uploads/2019/08/bbs-blog-logo-300x82.png
Liz Tabron
2021-05-10 13:44:48
2021-05-10 13:54:00
Milano Elizabeth Traditional Showers – The Ultimate Buying Guide
https://wpcdn.bigbathroomshop.co.uk/info/blog/wp-content/uploads/2021/05/vanity-units-blog-banner.jpg?strip=all&lossy=1&quality=70&ssl=1
491
1401
John Klee
https://wpcdn.bigbathroomshop.co.uk/info/blog/wp-content/uploads/2019/08/bbs-blog-logo-300x82.png
John Klee
2021-05-06 15:59:02
2021-05-13 16:37:15
A Buyer's Guide To Bathroom Vanity Units
https://wpcdn.bigbathroomshop.co.uk/info/blog/wp-content/uploads/2021/04/nero-blog-banner.jpg?strip=all&lossy=1&quality=70&ssl=1
491
1401
Liz Tabron
https://wpcdn.bigbathroomshop.co.uk/info/blog/wp-content/uploads/2019/08/bbs-blog-logo-300x82.png
Liz Tabron
2021-05-06 13:02:13
2021-05-06 14:36:59
The Milano Nero Black Shower Buying Guide
Dawson Court
Billington Road Industrial Estate
Burnley
BB11 5UB