Top 10 Mischievous Elf on The Shelf Bathroom Ideas
If you're looking for some mischievous elf on the shelf bathroom ideas, then you have come to the right place. Get ready for some brilliantly wicked ideas this holiday season.
Parents, it's that time of year again to drag the naughty Elf on the shelf out of the attic and start to plan his/her mischievous shenanigans.
For some, thinking of ideas comes naturally but for most after a week or so, you may find yourself running out of ideas. Do not fear, we are here to help you devise the most brilliantly naughty elf on the shelf activities that your little ones will love.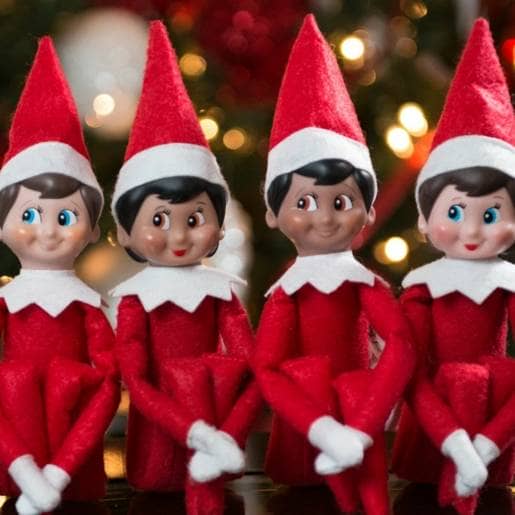 Where Can I Get An Elf On A Shelf?
If you're new to Elf on a shelf and are ready to take on the almighty challenge (and have some mega fun), you can purchase an elf from many UK retailers including John Lewis, Argos, Ebay or Smyth's Toy Store's, for as little as £16.99.
Choose between a girl or boy (or get both) and give them a great name. Buddy & Elfie are our personal favourites!
1. Starting with the classic, Elf Wraps the Toilet
Kicking off with a tame one, wrapping up your entire toilet seat and pop your Elf proudly on the cistern. This should only take around 5-10 mins (if that) and your children will love it in the morning!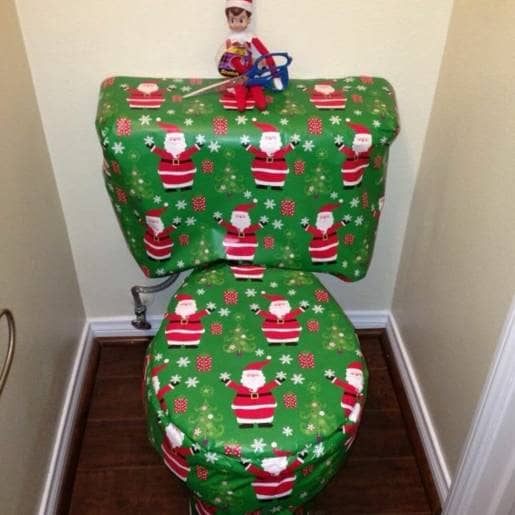 2. Elf's Toilet Tissue Turmoil
If you really want to shock the kids, purchase the cheapest loo roll you can find and let the tissue turmoil unfold. Cover as much as the room as you can, drape it from the lights, cover the floor and loo until no piece of furniture is left untouched.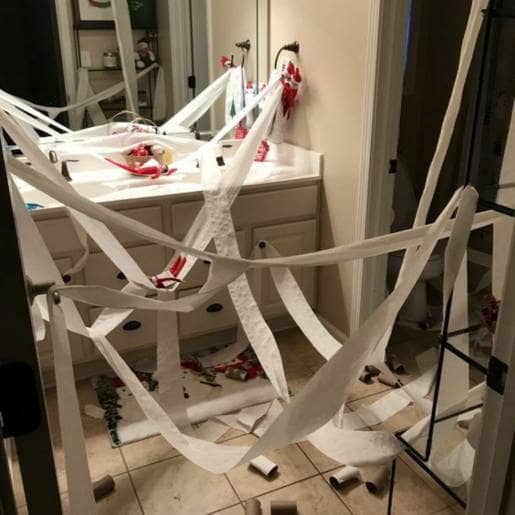 3. Toothpaste Graffiti
Use toothpaste and leave a naughty or nice message on the bathroom mirror. Frame your Elf by leaving them sat on your basin holding the toothpaste tube. You can use this trick to encourage your little ones to brush their teeth, or just use it as an opportunity to make them laugh early in the morning.
Here are some message ideas
'Hey ______ remember to brush your teeth! Love Elfie!'
'Good morning ___ & ___!'
'Sorry about the mess – I was bored, Love Elfie!'
'Elves Rule!'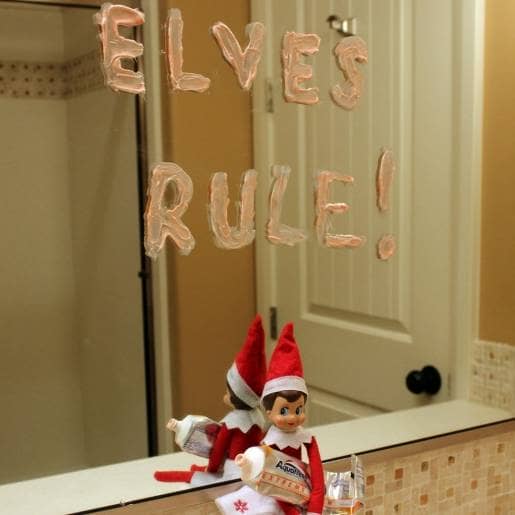 4. Buddy the Elf Goes Fishing
Moving back to the tamer ideas, fill up your basin sink with water and makeshift a little fishing rod with a toothpick and a piece of string. Add in some plastic fish/ fish toys to make it look like he/she has had a fun fishing trip during the night.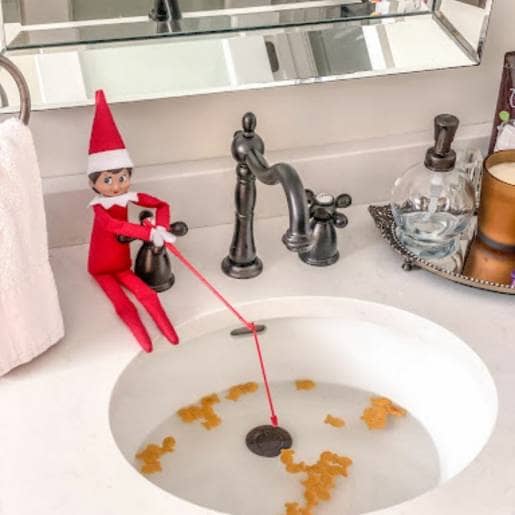 5. Elf Goes to The Toilet
We now go on to abhorrent territory with the ultimate shock factor… Elf using the toilet! (DU DU DUUU!) Take your Elf and place him/her on the toilet seat. Use paper and chocolate chips to stage a graphic toilet incident.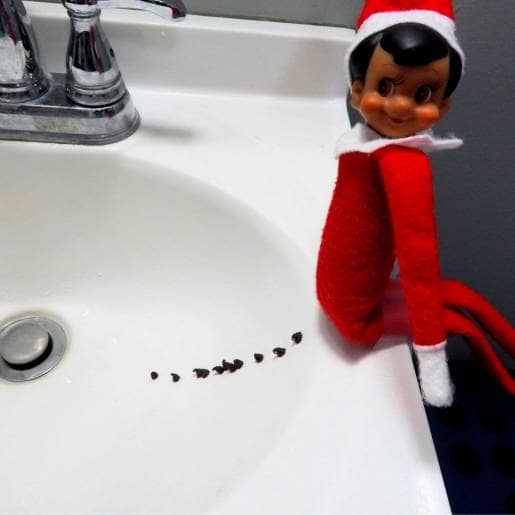 6. Elf Has a Shave
Use existing shaving foam or purchase a cheap one from your local supermarket and amuse the kids with a staged Buddy/Elfie attempting to shave. Cover Elf's lower face with cream/foam and leave the razor in the hands of your naughty house Elf.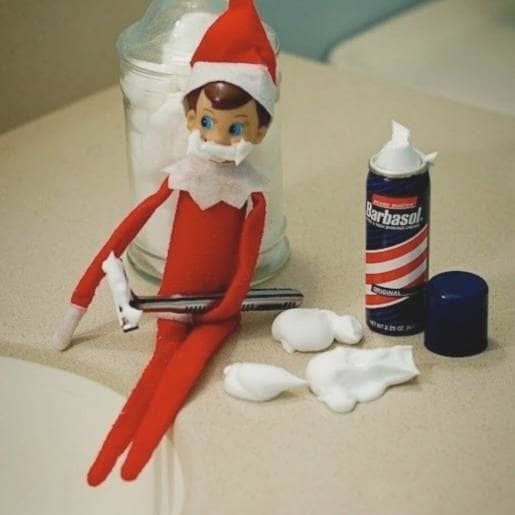 7. Elf Takes a Balloon Bath
Hygiene is something Elves take very seriously. So why not run him a lovely, calm, and soothing balloon bath? Blow up as many balloons as you can and fill the entire tub. Leave buddy/Elfie with their arms behind their head, in the ultimate 'chill' position, laid on top of one of the balloons.
Not only will the kids love the idea, but they'll also have plenty of fun playing with all the balloons!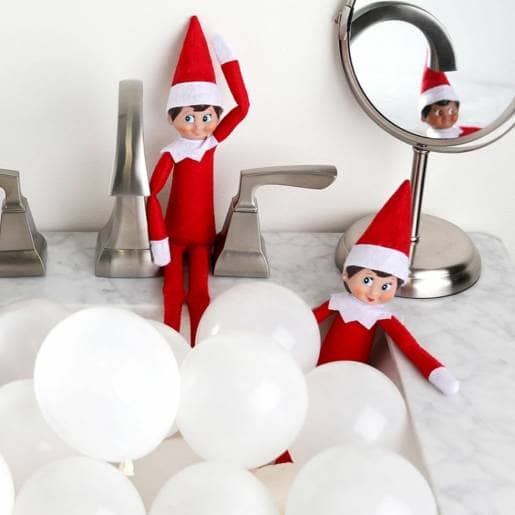 8. Elf Tries to Floss
This is an idea for the evenings when you can't bring yourself to mess up the house.
Get some teeth floss, tangle It around your Elf and leave it on the basin sink for your children to discover!
Leave a little note from your Elf stating that he/she attempted to floss – simple but very effective!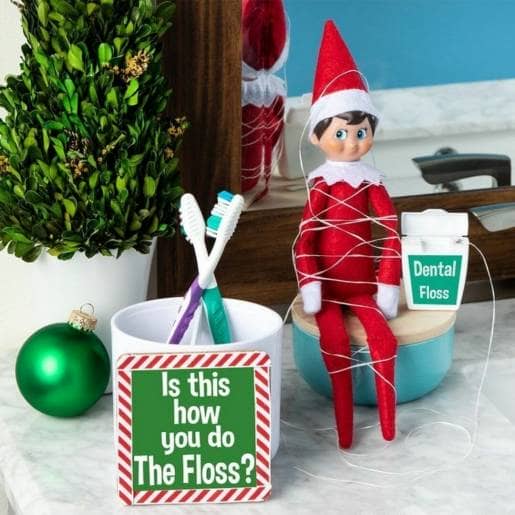 9. Tissue Flakes
You'll need to leave this one until you have some spare time and the energy to be creative…
Use some cheap rolls of toilet tissue to create tissue flakes and leave them around the bathroom, you can create as many as you like. Go wild and cover the room or take the less messy approach and create a chain of them running from the toilet holder to the floor.
Place your Elf on the toilet roll holder with the scissors nearby, framing him/ her for the mess!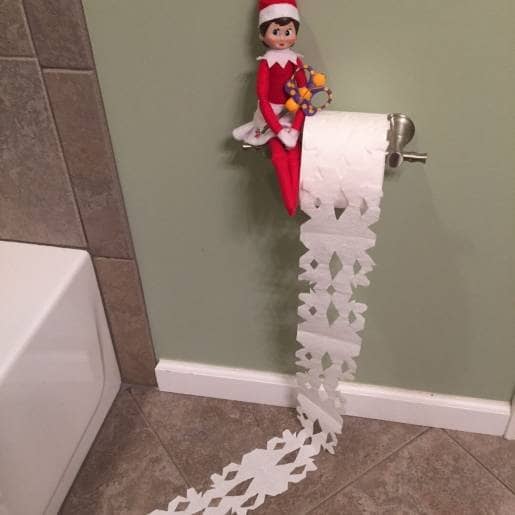 10. The Elf on Shelf Bathroom Swing Idea
Welcome your Elf back with a bang on the 1st of December by creating your own Elf swing. Create a swing in the doorway of your bathroom, with an empty loo roll as the seat. Place the Elf on the swing seat with a note saying, 'I'm back!'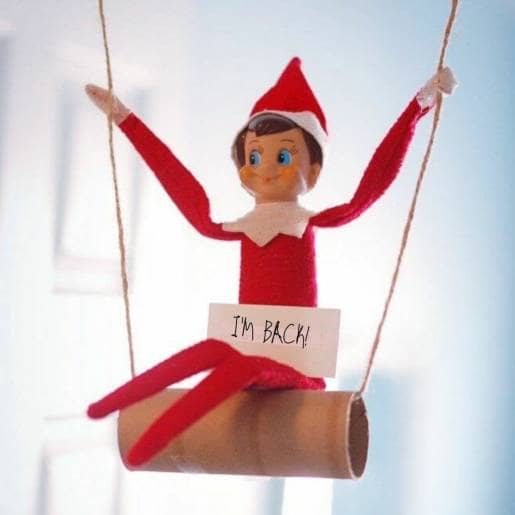 There we have it! 10 mischievous Elf on the Shelf Ideas for the bathroom. We hope you enjoy the festive season and have a wonderful Christmas!
Rikki has a passion for interior design and an even bigger passion for writing about it. When she isn't writing about gorgeous bathroom interiors, you'll find her discovering all of the latest trends.
https://wpcdn.bigbathroomshop.co.uk/info/blog/wp-content/uploads/2021/11/elf-on-the-shelf-blog-banner.jpg?strip=all&lossy=1&quality=70&ssl=1
491
1401
Rikki Fothergill
https://wpcdn.bigbathroomshop.co.uk/info/blog/wp-content/uploads/2019/08/bbs-blog-logo-300x82.png
Rikki Fothergill
2021-11-30 14:35:24
2021-12-03 12:58:07
Top 10 Mischievous Elf on The Shelf Bathroom Ideas