Bathroom cabinets provide a stylish and functional way to keep toiletries, spare loo roll and much more hidden away from view, so if your bathroom is more chaotic than calm, and in need of a serious tidy up, then this could be the perfect storage solution for you.
The bathroom is more than just a place to get ready on busy weekday mornings, it's also a space where you can escape to after a long day, and if every spare inch is covered in clutter, you can forget about trying to enjoy a relaxing soak or pamper session. Fitting a stylish bathroom cabinet means you can hide toiletries and beauty products, which will keep surfaces clear, and therefore ensuring your bathroom remains tranquil, clutter free and super organised – the best way to create a relaxing retreat!
So, now that we've convinced you that a cabinet is a great bathroom storage idea, we'll explain how to choose the best one to suit your requirements and the style of your bathroom. You'll also find out the best position to fit your cabinet, how to install it and keep it in order. Read on to discover more.
How to choose a bathroom cabinet
When choosing a new bathroom cabinet there are a few things you should take into consideration first, such as the size and style of your bathroom, as well as your storage requirements – this will make it easier to select the best one. It's important that your cabinet is both stylish and functional.
Cabinets come in a range of sizes and styles to suit any bathroom, small or large. You can also choose between wall mounted bathroom cabinets, mirrored cabinets and tall bathroom cabinets, so there's certainly something to perfectly suit your bathroom or en-suite.
Assess your needs: it's a good idea to decide what you want out of your bathroom cabinet design and the type of bathroom it will be used in. A busy family bathroom will require a cabinet with plenty of storage space for everyone's toiletries, whereas a small en-suite may only need a small cabinet with enough room for a few essential items.
Set a budget: before shopping for a new bathroom cabinet, make sure to set a budget, which will help to narrow down your options. The more specific your budget is, the easier it will be to recognise which cabinets there are to choose from.
Measure the bathroom: assess the available space for your bathroom cabinets, and measure your bathroom, as well as door and window openings, and existing fixtures.
Design a layout: cabinets vary greatly in size, so you will need to choose one that best suits your bathroom space. Pick one that's too small and it will look lost in a large bathroom, and a cabinet that's too big will look ridiculous in a compact bathroom. There needs to be enough room to allows doors to open fully.
Create a scale plan: sketch your bathroom measurements on some graph paper, and mark the doors, windows and fixtures. Make some to-scale templates for various bathroom cabinet sizes and arrange the templates on the sketch until you are happy with which cabinet size will suit your bathroom.
Compare different cabinet types: there are various cabinet designs available and it's a good idea to compare each type to see which would best suit your needs.
Installation: floor standing cabinets can be positioned easily anywhere in your bathroom, but wall cabinets require some DIY skills to ensure they are securely fitted to the wall.
Choose a style: the right cabinet style will enhance the look of your bathroom. It's also important to consider the smaller details too such as the handles, finish, open shelving and soft close doors.
Where to position a bathroom cabinet
The best place to position a wall mounted bathroom cabinet is above the basin, providing there's enough space or no window of course. A cabinet above the basin ensures your toiletries are kept within easy reach. If this isn't possible in your bathroom, you could try placing it in various positions around the room to see what would work best, but wherever you decide, just make sure the cabinet door can fully open and it's not in direct contact with water.
The best position for freestanding bathroom cabinets, will depend upon the size and layout of your bathroom. A matching vanity unit and cabinet look great fitted next to each other, but if this isn't possible, positioning one against a wall where there's enough space can work well.
Bathroom cabinets – wall mounted or freestanding – which is best?
There are two main types of bathroom cabinets – wall mounted and freestanding, and the best choice for you will mostly be determined by the available space in your bathroom and your storage requirements.
Wall mounted bathroom cabinets
If you have a small bathroom, a wall mounted cabinet will maximise space and keep the floor area clear. Bathroom wall cabinets come in various designs including tall cupboards, mirrored cabinets and wall cupboards with glass or wooden doors.
Mirrored bathroom cabinets combine storage and a mirror into one unit and are a popular choice for modern bathrooms and en-suites. They come in various sizes and styles, and some incorporate energy saving LED lights, touch sensors and shaving sockets, offering both an aesthetically pleasing and practical storage solution. A mirror cabinet that's positioned high up on the wall ensures that medicines etc. are kept out of harms reach from young children.
Tall bathroom cabinets are typically divided into two separate compartments and incorporate plenty of space for spare towels, toilet roll and toiletries. There's a couple of shelves in each cupboard so you can keep everything neat and organised.
Freestanding bathroom cabinets
A freestanding bathroom cabinet is best suited to a big bathroom, and you could even create a run of cabinets along a wall to add plenty of storage space, which would be ideal for a large family.
Freestanding cabinets are available in modern and traditional styles, as well as tall and slimline designs. They can easily be positioned anywhere in your bathroom, offering more flexibility over wall mounted bathroom cabinets. A freestanding cabinet is also easier to install than a wall hung design, plus the wall needs to be able to take the weight of a cabinet and its contents; something else you may want to bear in mind.
Cabinets for small bathrooms
Corner cabinets and recessed cabinets are also ideal for small bathrooms. A corner cabinet fits snugly into the corner of a bathroom and makes use of what could otherwise be wasted space. A recessed cabinet is fitted into the wall, creating a sleek and streamlined look. If a corner or recessed cabinet is not an option, then look out for slimline bathroom cabinets, which are narrow in width to save space.
As well as styles and sizes, you can choose from various materials including stainless steel, aluminium and MDF, which brings us conveniently on to the next part of this blog – the best material for bathroom storage cabinets.
What is the best material for bathroom cabinets?
When it comes to bathroom cabinet materials you should always go for something robust and durable. Your cabinet needs to withstand daily use, so it's a good idea to buy the best that you can afford. To make your choice easier, here's a rundown of the various bathroom cabinet materials.
Aluminium: this is a durable material that will not rust or corrode when exposed to moisture in the air. Aluminium cabinets are a popular option for modern bathrooms and are not overly expensive.
Stainless-steel: this is another durable material that will stand the test of time. A stainless-steel cabinet is easy to clean and looks ultra-modern.
MDF: a cheaper option than stainless steel and aluminium cabinets, vinyl wrapped MDF bathroom cupboards come in contemporary and traditional designs. You can also choose from gloss and matt finishes, as well as colours including white and grey, and wood effects such as oak and walnut.
Vinyl wrapped cabinets are made from MDF panels that are covered with a vinyl form that's pressed to the cabinet using heat and vacuum. This makes the cabinet water resistant, but not waterproof, so avoid fitting an MDF cabinet where it could come into direct contact with water. If the cabinet does get splashed, then make sure to dry it immediately to prevent water damage.
Bathroom cabinets and technology
Some bathroom cabinets offer more than just somewhere to store your toiletries, they also incorporate handy features such as shaving sockets, digital clocks, heated demisters, touch sensors, Bluetooth speakers and energy saving LED lights. A cabinet with these features, will make a practical addition to any bathroom and make your morning routine easier too.
Heated demisters prevent the mirror from steaming up by warming it up to just above room temperature.
Bluetooth speakers allow you to play music directly from your phone, so you can listen to your favourite music whilst getting ready in the morning or for a night out.
With sweep sensors, the lights can be switched on in one sweep of the hand – quick, easy and no messing around feeling for the switch.
Most illuminated cabinets incorporate LED lights, which are long lasting and consume little energy to help save money on electric bills. Bathroom cabinets with lights provide bright enough illumination for applying make-up or the morning shave yet are dim enough to create a relaxing ambience in the evening for a soak in the bath.
How to install a bathroom cabinet
To install your bathroom cabinet, you will need:
Drill
Wall plugs
Screws
Measuring tape
Spirit level
Stud finder
Remove the shelves and doors from the cabinet and choose where to mount the cabinet. Use a spirit level to mark the outline of the cabinet on the wall.
Use a stud finder to work out where the wall studs are located within the outline of the cabinet. Use a tape measure to mark out the position onto the back panel of the cabinet.
Pre-drill two pilot holes in the cabinet in line with the stud marks. It's a good idea to get someone to hold the cabinet in place while you drive in the screws through the pilot holes into the wall stud.
Once the cabinet is securely fitted to the wall you can then attach the doors and put the shelves back in place.
How to organise your bathroom cabinet
So, now that you've fitted your bathroom cabinet, here's some top tips on how to keep it neat and organised.
There's only so much space in a bathroom cupboard, and if your bathroom is overflowing with lotions, shampoo and toiletries, then it's clear that you are going to have to get rid of unwanted or unnecessary items. So, grab a bin bag and throw away anything that hasn't been used in the past 6 months, it's probably way past the use-by date anyway.
Once you've got rid of the clutter, you will need to decide what to keep in the cabinet – usually the items you use every day. Don't be tempted to shove something back inside, so it's hidden at the back of the cabinet, as the clutter will soon build-up again. If the cabinet is large enough, you could fit a hook to the inside of the door to hold items such as hairbrushes, or place small baskets on the shelves that can easily be pulled out for easier access.
It's also a good idea to group similar items together such as hair products, make-up and skincare. The things you use the most often should be in the most accessible spot.
Following the above tips will ensure your bathroom cabinet remains in order.
What kind of paint do you use for bathroom cabinets?
The best paint to use for bathroom cabinets is semi-gloss paint, but you could also try Dulux Cupboard Paint, which is 10x tougher than water-based satin paints.
Adding a fresh coat of paint will revive an old cabinet and provide a simple yet effective way to give your bathroom an update. You could add a pop of colour with something bright or enhance a sense of calm with neutral colours, the choices are endless.
How to paint a bathroom cabinet
Follow these steps on how to paint a bathroom cabinet.
Remove the handles from the cabinet and thoroughly clean all surfaces that are to be painted. Use masking tape to protect the hinges.
When the cabinets are clean and dry, sand with fine paper (avoid this step if you have high gloss or melamine surfaces). Imperfections can be filled with a good quality ready mixed filler, and then sand again.
Depending on the surface, apply a wood or melamine primer. For a smooth finish, use a roller on the doors.
Once the primer has dried, apply two coats of paint, and allow to dry in-between. When the first coat is dry, sand with fine paper and wipe off any dust with a damp cloth.
When the second coat of paint is dry, remove the masking tape and fit the handles. You can now admire your freshly painted bathroom cabinet.
So, now that you've picked out a bathroom cabinet, know how to install it and keep it organised, you may need a little inspiration on how to incorporate furniture into your bathroom. Here's some ideas for you…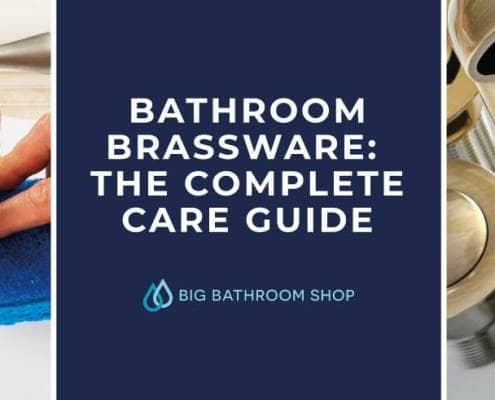 https://wpcdn.bigbathroomshop.co.uk/info/blog/wp-content/uploads/2022/02/insta-blog-banner.jpg?strip=all&lossy=1&quality=70&ssl=1
491
1401
Rikki Fothergill
https://www.bigbathroomshop.co.uk/info/blog/wp-content/uploads/2019/08/bbs-blog-logo-300x82.png
Rikki Fothergill
2022-02-28 17:21:54
2022-04-05 13:10:35
Bathroom Brassware – The Complete Care Guide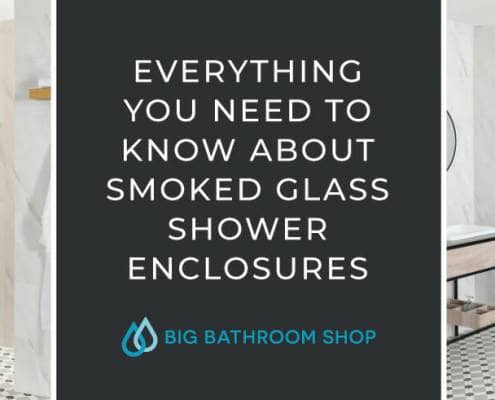 https://wpcdn.bigbathroomshop.co.uk/info/blog/wp-content/uploads/2021/11/enclosures-blog-banner.jpg?strip=all&lossy=1&quality=70&ssl=1
491
1401
Rikki Fothergill
https://www.bigbathroomshop.co.uk/info/blog/wp-content/uploads/2019/08/bbs-blog-logo-300x82.png
Rikki Fothergill
2021-11-23 13:22:48
2021-11-23 14:54:05
Everything You Need To Know About Smoked Glass Shower Enclosures
https://wpcdn.bigbathroomshop.co.uk/info/blog/wp-content/uploads/2021/05/modern-showers-blog-banner.jpg?strip=all&lossy=1&quality=70&ssl=1
491
1401
John Klee
https://www.bigbathroomshop.co.uk/info/blog/wp-content/uploads/2019/08/bbs-blog-logo-300x82.png
John Klee
2021-05-19 09:13:46
2021-12-14 11:23:23
A Buyer's Guide To Modern Showers
Hi, I'm Liz, an interiors blogger. My main focus area is the bathroom, where I aim to inspire anyone who's planning and designing a new bathroom – you'll find plenty of tips, how-to guides and a wealth of ideas!
Dawson Court
Billington Road Industrial Estate
Burnley
BB11 5UB