Our bathroom décor ideas will give you plenty of inspiration so you can create a space you're sure to love! Planning a bathroom can be a challenging experience, especially if you have no idea where to start. From choosing the fixtures and tiles, to deciding on a colour scheme, there's certainly a lot to think about, so no wonder it can be off-putting when it comes to designing a new bathroom. Read on to discover our inspiring bathroom ideas.
When it comes to bathroom design, planning is essential, as not only do you need to think about how you want the space to look, you'll also need to set a budget and timescale, consider the plumbing and choose a reputable bathroom fitter if you aren't planning to do any of the work yourself.
How much does a new bathroom cost?
Bathroom decorating ideas need to be both stylish and functional, as well as achievable and within budget. It's a good idea to choose bathroom décor that coordinates and matches the style of your home too, to ensure a harmonious look.
Choose a freestanding bath
Not all bathrooms have enough space for a freestanding bath, but if yours does, then it's well worth considering one. Freestanding baths come in many styles, from traditional clawfoot baths to stunning contemporary designs, to suit any bathroom. Most feature a white finish, but if you really want to make a statement, then opt for a black or silver freestanding bath.
If your bathroom is on the smaller side, there are some compact freestanding baths available that measure 1500mm in length to save space. You could also consider a back to wall freestanding bath, which can be used with a wall mounted bath tap.
Whichever freestanding bath you choose, you can be sure it will add the wow factor your bathroom.
Wet rooms are great for creating a sense of space in a small bathroom, and are a practical option for any home. A sleek wet room glass screen and a designer shower tower, as well as some eye-catching tiles, is all that's needed to create a stylish showering space.
It's a good idea to fit underfloor heating in a wet room, as not only will it create a luxuriously warm floor, but it will also help to dry the space out.
Wet room glass screens help to minimise splash-out, and they come in a wide range of sizes. All glass screens at BigBathroomShop feature 8mm toughened glass with an easy-clean protective coating that prevents the build-up of limescale and soap scum.
If you don't have the budget for a wet room, a walk in shower offers the ideal alternative. Walk in showers feature a glass screen and low level shower tray, so you can still create the look of a wet room, but without all the hassle of tanking the space. Choose from a wide range of sizes and configurations to perfectly suit your bathroom design.
A wow factor shower is one way to make a statement in your bathroom. Think rainfall shower heads, shower towers and massaging body jets for a spa-like showering experience.
For a seamless look, fit a recessed ceiling tile shower head and concealed shower valve. If your bathroom is more traditional, opt for an exposed shower valve in a black and chrome finish, and an apron shower head.
Go chic with a countertop basin
Countertop basins come in many shapes and sizes, and they are a great option for adding a chic spa-style touch to your bathroom. Designed to be fitted to a worktop, a countertop basin usually doesn't have any tap holes, which means you will need to fit a wall mounted or high-rise basin mixer tap. Wall mounted taps create a neater finish, but are more complicated to install. But, whichever tap you choose, make sure it complements the shape of the basin.
You could even fit two countertop basins next to each other for a luxury his-and-hers look.
Storage is essential in any bathroom for ensuring a tidy and organised space. Vanity units are a popular option, and are ideal for replacing an old sink. They come in a huge range of designs and sizes, and incorporate plenty of room for toiletries and beauty products. If your bathroom is on the small side, fit a wall mounted unit to maximise floor space. Choose one with push to open drawers for a seamless look.
Mirrored cabinets with LED lights are a great option too. They provide bright enough illumination for when you're applying make-up, but they also add a relaxing ambience for when you're relaxing in the bath of an evening.
If you have a small bathroom, wall hung fixtures are a great idea for making the space look and feel bigger. The floor will be much easier to clean too, always a bonus.
Wall hung basins and toilets create a smart, modern look, and are a good option for small bathrooms, en-suites and cloakrooms. If you're incorporating storage into your bathroom, opt for a wall mounted vanity unit or cabinet rather than a floor standing design. Wall hung fixtures may be a little more tricky to install, but are definitely worth the extra effort in the long run.
A stylish lighting scheme
A well-planned lighting scheme will really bring your bathroom to life. It's a good idea to combine different types of lighting such as task, ambient and accent to create a bathroom that's not only functional, but feels relaxing too.
Choose the right lighting for your bathroom with the help of our expert buyer's guide.
Task lighting provides illumination for shaving or make-up application. You could fit a bathroom mirror with integrated lights, or fit a light above the mirror.
Ambient lighting will give your bathroom all-over illumination; think bathroom ceiling lights and wall lights.
Accent lighting is used for highlighting different features in your bathroom such as the bath or shower.
Vertical designer radiators
Vertical designer radiators provide a stylish but practical heating solution for any bathroom, and are especially ideal for where there's limited wall space. A vertical radiator will also make a statement, and there's a huge variety of styles to choose from, ranging from the traditional to the contemporary.
Choose one that complements your bathroom décor, for example, a chrome radiator, taps and accessories work well together, or you could add contrast to an all-white scheme with an anthracite radiator.
Bathroom décor ideas don't come more on-trend right now than statement tiles. According to Amara.com, this year's top tile trends include herringbone patterns, shades of blue such as indigo, azure and turquoise, statement patterns, natural elements and warm metallics.
Bold patterns can transform your bathroom design, especially when used for the floor or as a feature wall.
When it comes to the bathroom, most people tend to shy away from bold colours, preferring to keep things neutral instead. But, a splash of bold colour is another bathroom decor idea for making a statement, and if done right, can look fabulous. By choosing colourful towels, accessories, art, tiles and paint, it's easy to introduce colour into this much used room.
If there's one style of tap that's going to make a statement in your bathroom, it's the waterfall tap. Featuring an open spout, waterfall taps create a river of water, which enhances a sense of calm and relaxation. For a coordinated look fit a matching bath mixer and basin mixer tap, and go wall mounted for a neater, more minimal finish.
Why choose a shower door with a chrome frame, when you can add designer style with a black shower door instead. Black shower doors are becoming an increasingly popular choice for those who are revamping their bathroom and looking for something different. Take the look one step further with black taps and an anthracite shower tray.
Black taps are sure to make a statement in any bathroom, and they provide something different than the usual chrome. Black looks smart and contemporary, and adds a touch of industrial style to the simplest of bathrooms. Plus, a black and white scheme will always be a winning combination.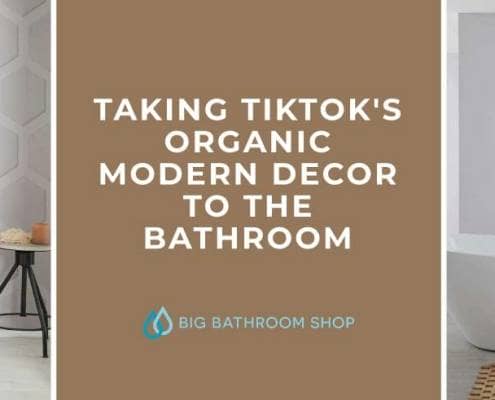 https://wpcdn.bigbathroomshop.co.uk/info/blog/wp-content/uploads/2022/07/tik-tok-bathroom-decor-blog-banner.jpg?strip=all&lossy=1&quality=70&ssl=1
491
1401
Rikki Fothergill
https://www.bigbathroomshop.co.uk/info/blog/wp-content/uploads/2019/08/bbs-blog-logo-300x82.png
Rikki Fothergill
2022-07-06 14:48:30
2022-07-07 08:19:38
Take TikTok's Organic Modern Decor To The Bathroom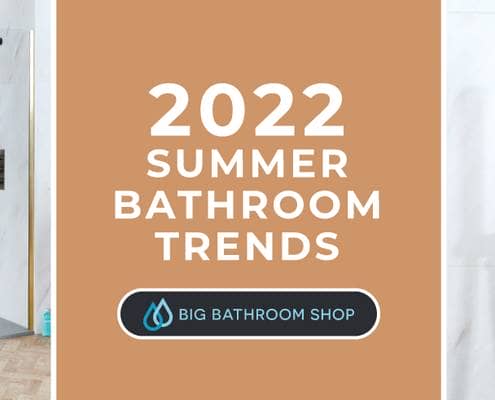 https://wpcdn.bigbathroomshop.co.uk/info/blog/wp-content/uploads/2022/05/summer-blog-banner.png?strip=all&lossy=1&quality=70&ssl=1
491
1401
Rikki Fothergill
https://www.bigbathroomshop.co.uk/info/blog/wp-content/uploads/2019/08/bbs-blog-logo-300x82.png
Rikki Fothergill
2022-05-30 10:36:58
2022-05-30 10:42:25
Summer Bathroom Trends 2022
https://wpcdn.bigbathroomshop.co.uk/info/blog/wp-content/uploads/2022/05/colours-blog-banner.png?strip=all&lossy=1&quality=70&ssl=1
491
1401
Rikki Fothergill
https://www.bigbathroomshop.co.uk/info/blog/wp-content/uploads/2019/08/bbs-blog-logo-300x82.png
Rikki Fothergill
2022-05-19 14:19:23
2022-05-23 17:06:50
13 Trending Bathroom Colours for Summer
Hi, I'm Liz, an interiors blogger. My main focus area is the bathroom, where I aim to inspire anyone who's planning and designing a new bathroom – you'll find plenty of tips, how-to guides and a wealth of ideas!
Dawson Court
Billington Road Industrial Estate
Burnley
BB11 5UB