BLACK BATHROOM DESIGN IDEAS
Black bathrooms, there everywhere. Whether that's black fixtures, black tiles or even all black everything – people are going wild for this chic industrial black bathroom design.
Over the years we have seen chromes, traditional silvers and golds rule the bathroom decor world but never has black made an impact, until now.
There are many ways you can incorporate black into your bathroom. So, keep with us for a shot of inspiration!
WHY CHOOSE A BLACK BATHROOM?
The average UK adult will spend 416 days of their life on average in the bathroom, a recent poll from the Independent has suggested – that's an astonishing 9984 hours!
So, it really is no wonder we want our bathroom to be one of the best-looking rooms in the house. With inspiration everywhere, it can be tough to choose a black bathroom design that is right for you but, not to worry, we've got you!
Say hello to your new favourite bathroom look: The Black Bathroom design.
Black has always been a scary, avoid at all costs kind of colour, up until the last 12 months.
The Instagrammers have gone crazy for classical colour. So, if it's good enough for them, it's good enough for us
Here's all the reasons why you need a black bathroom…
Why not add black bathroom fixtures?
We all know the saying 'go big or go home?' – apply this when revamping your bathroom in black. If you have already chosen black as your primary bathroom colour or, decided to make a statement with black bathroom fixtures, we have some great tips on how to use this daring colour without going OTT.
You can't deny that this black bathroom screams luxury, elegance, dreamy and 100 other words that basically mean, it's stunning.
Imagine for a second that you took away all the black features. Have you done that? – yes, it would still look great but not half as striking without black fixtures. Our point is that you can create a whole different look by including noir elements into your bathroom design.
Simple features will give your bathroom a sophisticated feel. From black shower doors or shower trays with black finishes to black taps and smaller accessories like black towel rings.
Alternatively, you can give a traditional bathroom design a modern twist with black fittings.
Inspired and leading the way with this new trend, Milano has introduced its Elizabeth range, which combines traditional bath and basin fittings with black features. This range has been made with traditionalists in mind.
With black handles and levers helping to add those finishing touches to your interior design, the Elizabeth collection is a vintage-lovers dream, but still offers all of the modern touches you would expect in a new bathroom.
From shower enclosures, to freestanding baths, shower heads and wall hung basins, taps and a selection of fabulous matt black coloured radiators, our range of traditional and modern black bathroom fixtures & fittings is growing.
If you're looking to renovate or revamp, and you need a black bathroom in your life, then we are here to ease the stress.
1. Add black feature wall
If you're not really feeling black bathroom features, there are plenty of other ways you can include black into your bathroom design – how about a black wall?
By introducing a feature wall, you're creating a bathroom that will make an impact. Add a lick of paint to a wall of your choice and say hello to a brand-new looking bathroom! It's easy, affordable and reversible if you change your mind.
Make sure you don't lose the size of your room with too much black. As we all know, darker tones are known to make a room look smaller.
Avoid this by simply adding large mirrors that will reflect light around the room! – mirrors will create the illusion of space and add extra detail to your bathroom.
2. Include black tiles for texture
Tiles are available in just about every shape, size and colour you can think of. Why not include black bathroom tiles in your bathroom? They can look super classy when combined with the right colours.
Mixing black tiles with gold fixtures will leave your bathroom looking modern, fresh and unique. We are seeing more and more white/black grout tiled bathroom designs, and have fallen head over heels for this look.
Use white grout with black tiles for a statement design or opt for stone tiles, they are a great choice for bathroom floors and walls. If you keep them well maintained, they will remain durable and water resistant. Plus, the texture of black stone will add depth and character to your bathroom.
                                                                                               @Zigzagstudiodesign Instagram
3. Black
&

White Bathroom is always a good idea
If colours could be soulmates black and white would be a match made in heaven.
Monochrome has stayed mega-popular in the bathroom decor world and it's no wonder when they complement each other so effortlessly.
Black absorbs light and white reflects it – it's the perfect balance! Using black and white means your possibilities are endless.
Mosaic wall? – you can do it.
Checkered tiles? – no problem!
A mix of white and black bathroom furniture – simple!
Pair white vanity units, with matt black fittings to created effortless modern chic. For those of you who are really daring, why not opt for a black toilet?
Alternatively you can go with more of a traditional feel with white tiles and black grout. This will create a beautiful canvas for you to build on.
Black and white bathrooms are a timeless colour scheme, so you won't have to worry about redecorating any time soon.
4. Purchase a Black shower door
One of the most popular black and white bathroom design trends of 2020 is the crittall (or grid) shower doors.
The black shower frame craze has become Instagram's favourite Japanese-inspired trend! Complete your black and white bathroom style with this minimalistic shower door.
The industrial aesthetics of the crittall showers, have a clean, simple frame, with bags of class. With such a sleek structure, the crittal showers will work well with most bathroom designs.
It just oozes with evocative vintage class – we love it!
5. Use Black + White Geometric bathroom flooring
A beautiful way to add statement to a simplistic bathroom
When scrolling through Pinterest or Instagram, like us, you will be seeing heaps of geometric-style flooring. If complete black tiles, walls or fixtures scare you a little too much, geometric flooring is the perfect way to include black and still keep it minimal.
By leaving the darker elements to the lower half of the room, your bathroom can still feel bright and open. There are countless of options available in mosaic, ceramic, porcelain, stone, marble, and cement for those who seek a graphic pattern. Installing a black geometric bathroom floor makes a dramatic style statement for your bathroom.
Visit Topp Tiles for some amazing tile designs
6. Accessorise, accessorise, accessorise!
If you're happy with your bathroom, but would like a small element of black accessories, then we have a few ideas to help you out.
If you don't want to spend hundreds on a new bathroom, you can always add black details. Black soap dispensers, black towel handles or even a black loo holder can each be simple but effective way to make a bold statement.
Cut costs further by purchasing smaller black bathroom accessories such as a black wicker washing basket or perhaps, try and upcycle some an old vanity unit with black paint, for an authentic look.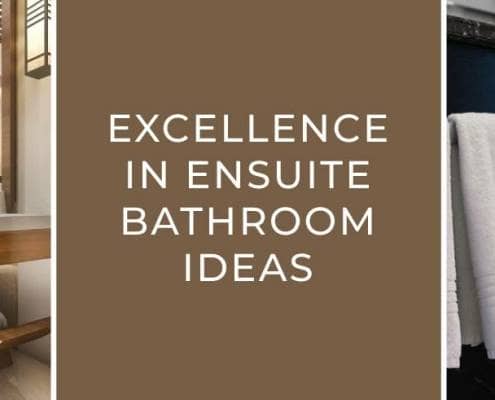 Dissecting and discussing some of the finest ensuite bathroom ideas to enhance what can potentially be one of the most awkward areas of a home to effectively decorate…
https://wpcdn.bigbathroomshop.co.uk/info/blog/wp-content/uploads/2021/09/en-suite-blog-banner.jpg?strip=all&lossy=1&quality=70&ssl=1
491
1401
John Klee
https://wpcdn.bigbathroomshop.co.uk/info/blog/wp-content/uploads/2019/08/bbs-blog-logo-300x82.png
John Klee
2021-09-15 12:48:07
2021-09-15 12:48:09
Excellence In Ensuite Bathroom Ideas
It's important not to underrate the role the finishing details can play in a bathroom. This blog zones in on toilet roll holders, and how to choose the correct style to enhance your bathroom area…
https://wpcdn.bigbathroomshop.co.uk/info/blog/wp-content/uploads/2021/08/download-21.jpg?strip=all&lossy=1&quality=70&ssl=1
491
1401
John Klee
https://wpcdn.bigbathroomshop.co.uk/info/blog/wp-content/uploads/2019/08/bbs-blog-logo-300x82.png
John Klee
2021-08-24 13:42:57
2021-08-31 14:39:10
How To Choose The Right Toilet Roll Holder
We've completed research to illustrate the attitudes of different age groups towards water wastage, also explaining about the environmental impact that can result…
https://wpcdn.bigbathroomshop.co.uk/info/blog/wp-content/uploads/2021/08/showers-vs-baths-blog-banner.jpg?strip=all&lossy=1&quality=70&ssl=1
491
1401
John Klee
https://wpcdn.bigbathroomshop.co.uk/info/blog/wp-content/uploads/2019/08/bbs-blog-logo-300x82.png
John Klee
2021-08-04 15:13:31
2021-08-13 10:10:22
Showers vs Baths: Is Water Wastage A Generational Issue?
Rikki has a passion for interior design and an even bigger passion for writing about it. When she isn't writing about gorgeous bathroom interiors, you'll find her discovering all of the latest trends.